The Juanita Brooks Lecture Series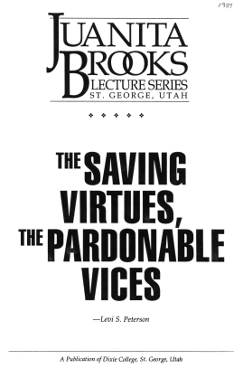 The Saving Virtues, the Pardonable Vices
by Levi S. Peterson
Delivered at the St. George Tabernacle
28 April, 1989
Dixie College
St. George, Utah
---
About Juanita Brooks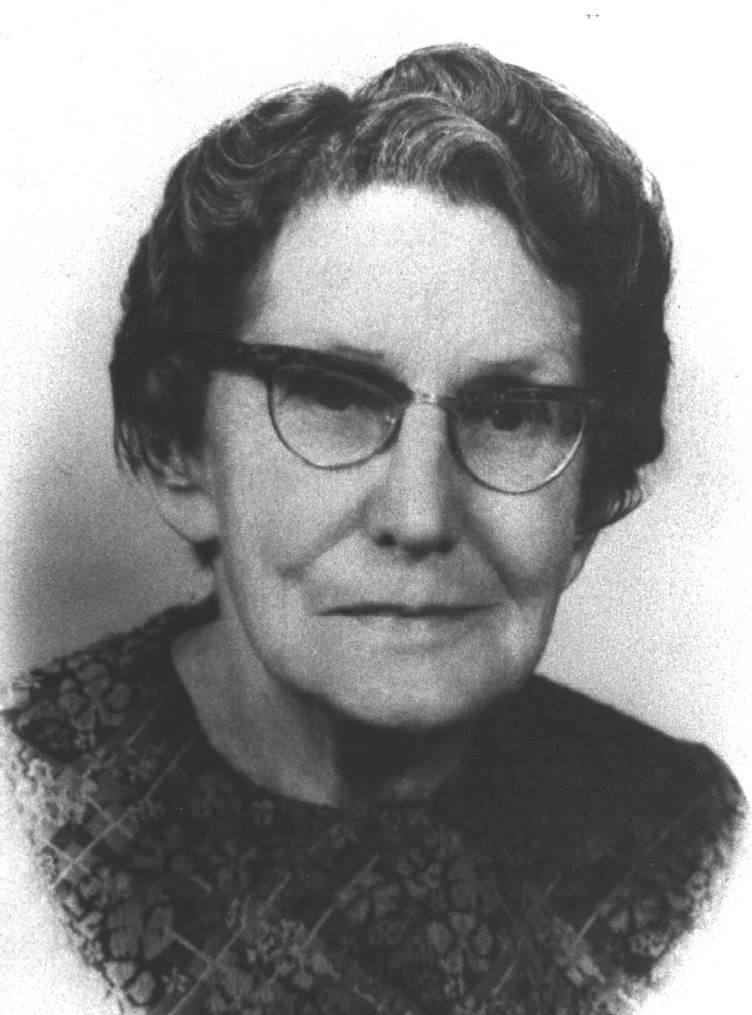 Juanita Brooks was a professor at Dixie College for many years and became a well-known author.
She is recognized, by scholarly consent, to be one of Utah's and Mormondom's most eminent historians. Her total honesty, unwavering courage, and perceptive interpretation of fact set more stringent standards of scholarship for her fellow historians to emulate. Dr. Obert C. and Grace Tanner have been life-long friends of Mrs. Brooks and it was their wish to perpetuate her name through this lecture series. Dixie College and the Brooks family express their thanks to Dr. and Mrs. Tanner.
---
The Saving Virtues, the Pardonable Vices of Juanita Brooks
I understood, when I was asked to deliver the annual Juanita Brooks honors lecture, that the topic was open. I knew instantly, however, that my topic had to be Juanita herself. As Juanita's biographer, I find a consummation in making the following remarks from the pulpit of the historic St. George tabernacle. If there is any single spot that marks the heart of Utah's Dixie, it is this very pulpit, and, if there is any single person who epitomizes the civilization of that arid, eroded domain, it is Juanita. I am aware that as I speak she lies in a semi-comatose condition in a nearby nursing home. That fact makes this moment more solemn and sacred. I love and honor her no less now than earlier, and I respect and praise her relatives who continue to care for her with an infinite tenderness.
She was born Juanita Leavitt in 1898 in Bunkerville, Nevada, a hamlet on the lower Virgin River. Her first husband, Ernest Pulsipher, died of cancer within little more than a year following their marriage. Taking along the son born of this marriage, Juanita educated herself at Dixie College and Brigham Young University and in 1925 accepted a position as an instructor of English and debate at Dixie. Always prone to feel inferior, she considered herself an alien and intruder in the seemingly exalted society of St. George. On New Year's Eve, 1925, she first heard the midnight tolling of the tabernacle bell. The tolling of the bell was not an important event, yet she remembered it nostalgically in a letter written on another New Year's Eve long afterward. I too remembered it when, during the preparation of the biography, I sought a concrete instance of the process by which Juanita enlarged her sense of home during her first year of teaching at the college. It pleased me to suppose that, while the bell tolled the coming of a new year, this native of Bunkerville experienced an authentic bonding with the town in which she would reside dur­ing most of her adult life and that, furthermore, while it tolled she formed an intense and adamant loyalty toward that larger land­scape called Dixie.
In 1933 Juanita resigned her position at Dixie College and married widower Will Brooks, sheriff of Washington County and soon to be postmaster of St. George. Juanita and Will made a new family of her son and his four sons and quickly added a daughter and three more sons. Juanita gave vent to her frustrated profes­sional drive by turning to freelance writing and to collecting pioneer diaries under the auspices of the Works Progress Administration and the Huntington Library. Recognizing that her talent lay with history rather than with fiction, she eventually fixed her ambition upon the saga of the Mountain Meadows massacre, which may be summarized as follows. In September, 1857, fifty Mormon militiamen, assisted by Indians, treacherously slaughtered nearly a hundred emigrants from Arkansas. For two decades Mormon authorities sheltered the militiamen. At last, under intense pressure from Federal officials, they cooperated in the trial and conviction of a single participant. This scapegoat, John D. Lee, was executed at the site of the massacre in March, 1877. Juanita's inquiry into this complex and vexing topic required fifteen years and resulted in three major works. The Mountain Meadows Massacre (1950), A Mormon Chronicle: The Diaries of John D. Lee 1848-1876 (co/edited with Robert Glass Cleland, 1955), and John Doyle Lee: Zealot, Pioneer Builder, Scapegoat (1961). The saga of course made Juanita famous. Without it she would have remained a local antiquarian or, at best, a minor historian respected by a few fellow scholars. She in turn made the saga famous. In her, with her unique blend of realism, indignation, and tolerance, the saga found its indispensable bard. For more than a quarter of a century she spoke before countless audiences of all sorts and sizes, for people were fascinated to hear the grim story from her own mouth. Without question her topic was one of the most important in the history of Mormonism in Utah. The massacre and its aftermath lay athwart the good name of numerous pioneer families, descending like a guilty curse from one generation to another. With the compas­sion of a born tragedian, Juanita explained how honest Christian men had come to make murderers of themselves. A self-designated penitent, she confessed the remorse of the Mormon people, who had no other evident means to declare their collective contrition.
With this introduction I come to the saving virtues and pardonable vices of my subject. I recall that in Dante's The Divine Comedy the souls of the saved must pass through purgatory before gaining paradise. In Dante's cosmography, only a tiny handful of those who have lived upon the earth are free from moral taint. Those guilty of mortal sins proceed into hell, while the rest, guilty of venial, or pardonable, sins, proceed into purgatory where they are cleansed by penance. I fancifully measure Juanita by Dante's scale. I propose to place her among that portion of human kind who are flawed but not irretrievably so. I propose to consider her, that is, as a person of ordinary decency and respectability, a person essentially good but possessed of common human foibles and failings. I do this, paradoxically, in order to isolate and emphasize a few rare traits which, in my estimation, elevate Juanita above ordinary decency and respectabili­ty. On certain occasions and in certain circumstances Juanita behaved in a superlative way. She was, I wish to argue, a credible hero. The heroes of fiction and folklore are always heroic. Authentic heroes like Juanita Brooks for the most part pass non-heroic lives. Like the rest of us, they spend the preponderance of their days performing the banal and commonplace.
I will first consider Juanita's shortcomings, which she admitted on many occasions. Although it would be inaccurate to call hers a melancholy personality, she by no means demonstrated an ebullient self-confidence. One sees Juanita's uncertainty regarding her own worth in a minor occurrence following Will's death in 1970. Among Will's papers Juanita found a handwritten poem entitled "Proude Little Woman." Cast in Will's relaxed orthography, it was obviously a tribute to Juanita.
Excellent woman
ever modest.
Proper in behavior
dress or speech
Prudent, Discrete
A feminane name:
Careful management,
economy,
sound judgement in
practicle matters
cautious, sensible;
not rash.
Careful, Wise
ever modest or proper.
Resourceful—
Skilled in many things.
Such praise from one who had observed her intimately for almost forty years broke Juanita's composure. It "completely bowled me over," she wrote her children. "I found it in the evening while I was here alone, and really had my cry out. Soaked up my pillow. Even now I cannot read it with a straight face. I feel so totally unworthy of the description, for I do sometimes—too often—speak my mind pretty definitely, as you all know. If he had built this picture of me in his own mind, it perhaps says more of what he wished me to be than what I really am."
In the foregoing statement, Juanita cited outspokenness as the reason why she did not deserve her husband's praise. In her opinion, it was her most prominent failing. She did in fact manifest a disputatious temperament during all periods of her life. In certain contexts her taste for controversy was a virtue. For example, it made her a formidable competitor and coach in college debate and an ardent partisan of the Democratic Party in local politics. But in other contexts it led her into undignified and sometimes injurious altercations, of which a notable example was her quarrel with Elizabeth Pulsipher, the mother of her first husband. A cold cordiality existed between the two women from the moment of Juanita's engagement to Ernest. Following Ernest's death Juanita remained at the Pulsipher ranch intending to claim Ernest's portion of the property for their infant son. According to Juanita's account, the two women avoided one another as much as possible in the narrow confines of the ranchhouse. Shortly Elizabeth persuaded her husband to depart with her on a tour of Yellowstone Park and an extended visit with relatives in Idaho, forcing Juanita, who had no relish for living alone at the ranch, to return to the home of her parents. Time would prove that by this maneuver Elizabeth had effectively barred Juanita and her son from a portion of the Pulsipher acres. Furthermore, it is probable that, as Juanita bitterly believed, Elizabeth financed the tour of Yellowstone by Ernest's insurance, which, in defiance of her son's express instructions, she had neglected to assign to Juanita. Refusing to forgive Elizabeth, Juanita afflicted herself by a life­long anger. More injuriously, she made sure that her son Ernest knew little of his Pulsipher grandparents. Ernest spent much of his childhood in the Bunkerville home of Juanita's parents. Although the ranch of his father's parents lay only a couple of miles across the river, his visits there were brief, strained, and infrequent.
Another of Juanita's failings was that petty deceit whereby human beings edit their public image for the sake of respectability. Juanita loathed hypocrisy and pretension, and she had a well deserved reputation for the candor and integrity which are their opposite. Yet she cared deeply what others thought of her and was capable of distortions and concealments in the name of tact and propriety. There was, for instance, her response to the grueling comprehensive examination by which she qualified for a master's degree from Columbia University in the spring of 1929. Juanita's year at Columbia was among her most daring enterprises. Having left her son with her parents in Bunkerville, she took up a lonely domicile in New York and followed a demanding regimen of self-guided studies that did not include examinations. The untested Juanita therefore faced the comprehensive examination at the end of the year with great anxiety. When she found herself unable to answer more than half the objective portion, she concluded she had failed. Much later she wrote this startling confession: "I, who have always thought I was so honest, would even have cheated if I could have done so." Happily she soon discovered she had passed the examination without cheating. I for one respect her candor in admitting her temptation. I also contemplate with a due sobriety her manifestation of that all-too-human impulse to achieve under intense competition by any means whatsoever.
Juanita demonstrated something less than candor in other ways. She was entirely willing to accept contraband documents which her friend Dale Morgan had surreptitiously copied in the archives of the Mormon church. Furthermore, she persuaded Robert Glass Cleland, her supervisor at the Huntington, to participate in a minor subterfuge by declaring that he had assigned her to research the massacre, a ploy which Juanita vainly hoped would make church authorities less critical of her book.
Juanita also created a face-saving fib to explain her motive for withdrawing from Warner Brothers' project for making a movie based upon her history of the massacre. She had been immensely pleased when the company proposed the film in the fall of 1951. However, she was quickly disillusioned by the firm's stingy offer, which consisted of $3500 for movie rights to the book, which Juanita would share with Stanford University Press, her publisher, and a $1000 consultant's fee, which would barely pay the expenses of her month-long removal to Los Angeles. Juanita understandably refused to be involved. The project stayed afloat only briefly thereafter, for Mormon officials, alarmed by an announcement in Publisher's Weekly, persuaded Warner Brothers to drop it. Because of the national publicity, Juanita found herself in the embarrassing situation of having to explain her withdrawal from the project to numerous acquain­tances. To Dale Morgan she readily admitted the company's paltry offer as her reason. To many others, however, she felt obliged to devise a better sounding motive. To one acquaintance she wrote: "From the first I had my doubts about what kind of picture they could make of it, and when I saw what the scenario writer had outlined, I knew at once that I wanted nothing to do with it. If he had read my book at all, there was little evidence of the fact." It was a claim Juanita later repeated many times in response to questions from curious audiences. As late as 1973 she would recall that she had been invited to Las Vegas where, "I was met by the representative [of Warner Brothers], who took me out to a 'farm' several miles from the city, gave me the manuscript, and left me for a couple of hours to read it and make up my mind."
As Juanita's biographer I will say that no other matter in my entire research gave me greater pause. I was reluctant to believe that Juanita would fabricate a scenario writer and an outline and, later, a trip to a country estate near Las Vegas and a manuscript, yet the abundant correspondence between Juanita and the studio, which amply documented her financial motive for withdrawal, made no mention of them whatsoever. Furthermore, I reasoned that, had they existed, she could not have failed to mention them in her frequent and confidential letters to Dale Morgan. I concluded therefore that Juanita, subject to the vanity and personal pride which afflict the rest of human kind, had indeed invented them.
Surely Juanita's vices were pardonable. In fact, they were not truly vices but foibles. Measured against her manifest virtues, they were trifling and negligible and did no more than establish her as an ordinary person. I will now turn to a consideration of her virtues. Like her failings, Juanita's virtues for the most part placed her among persons of common respectability. In main, they were admirable but not rare.
One could not have predicted in 1941 that Juanita's historical avocation, her hobby of collecting pioneer diaries and her ten­tative attempt to write about the pioneers of Dixie, would elevate her above the level of the antiquarian or chronicler. Time would show her to possess an ambition unusual in its fervor and direction. Though her circumstances were those of an amateur, she was determined to write history of a professional quality. It was this aspiration which moved her to begin a correspondence with Dale Morgan in the summer of 1941. In the deaf Morgan Juanita found a colleague and mentor whose natural genius for historiography more than made up for his lack of formal training. Her esteem for Morgan approached veneration, and from their frequent exchange of letters she imbibed both a methodology and an intellectual rigor.
Given her ambition, it was inevitable that Juanita would gravitate to the topic of the Mountain Meadows massacre. Understandably she approached her subject with trepidation, for, taken in its entirety, the massacre involved so many pioneer Mormons, great and small, that it seemed to impugn the divine infallibility of the Church. Juanita therefore looked on with sympathetic dread as Fawn McKay Brodie was excommunicated in 1946 for her unfavorable biography of Joseph Smith, No Man Knows My History. Three years later, while Juanita's book was in preparation at Stanford, the director of the university press asked to know her attitude toward excommunication. Juanita's reply was admirably temperate: "I do not want to be excommunicated from my church for many reasons, but if that is the price that I must pay for intellectual honesty, I shall pay it—I hope without bitterness." Her hope notwithstanding, Juanita could not have accepted excommunication without bitterness. Unlike Brodie, who had moved from Utah and Mormon society long before her excommunication, Juanita's daily life proceeded amidst a dense Mormon milieu. This is to say, then, that professional ambition alone would not have sufficed to keep Juanita steady in her purpose. She would not have published the sordid facts of the massacre simply to assure her reputation among professional historians.
She of course had many other motives for writing about the massacre, among them the very contentiousness which I have mentioned above, for she bore a life-long grudge against Brigham Young for having exiled her ancestors to the impoverished edges of the Mormon empire, and she took subtle pleasure in revealing Young's complicity in concealing the participants of the massacre and in making a scapegoat of John D. Lee. But I think her final and conclusive motive was the intellectual honesty of which she spoke in her letter to the director of the press. In things that mattered Juanita deserved her reputation for integrity. Integrity implies having the force of one's conviction and honoring one's moral standards. The standard, the conviction, behind which Juanita finally stood without flinching was that truth must be propounded; that in the abstract and for its own sake, the truth one possesses must be declared. Although Juanita was neither excommunicated nor formally disfellowshipped from the Mormon church for her book about the massacre, she suffered ostracism by many friends and relatives. With a bitter helplessness she saw that ostracism extended to Will, for whom a congenial participation in the social life of St. George was as essential as food and drink. It is therefore not surprising that during the following decade, as she collaborated in the editing of the diaries and wrote the biography of John D. Lee, Juanita repeatedly sought vindication from the general authorities of the Church. With a surprising boldness she defended herself in separate correspondence with Elders Stephen L Richards and LeGrand Richards, both of whom rebuked her for implied disloyalty. "I am at a loss to understand your motive for writing the book," LeGrand Richards scolded after he had, at Juanita's behest, dutifully read The Mountain Meadows Massacre. "In view of your statement that you are a loyal member of the church, and interested in its reputation, surely you cannot truthfully say that your book does not injure the reputation of your church and its leaders."
Juanita's search for vindication came to a climax while she and Will temporarily resided in Salt Lake City. In April, 1961, the First Presidency and Quorum of Twelve Apostles authorized the posthumous reinstatement in the Church of John D. Lee, who had been excommunicated without trial several years before his execution. In May, 1961, a Lee descendent was baptized in proxy for his grandfather, and Elder Ezra Taft Benson officiated in endowment and sealing ceremonies for the rehabilitated pioneer. Juanita was delighted beyond measure, for the Church had in effect accepted her interpretation of the massacre. The reinstatement was "a thing that I have not expected to live to see," she wrote Arthur H. Clark, the California publisher who at that moment was preparing to set the type for her biography of Lee. She enclosed a brief announcement to be added to the end of the biography, which she asked dark to hold while she attempted to gain approval, for she did "not dare to use it without official consent."
Juanita's hope for consent proved naive. Because the reinstatement was a tacit admission that Brigham Young had treated Lee unjustly, the Church understandably desired to minimize publicity. The aged Mormon prophet, David O. McKay, dourly warned that he would rescind the reinstatement should any notice of it appear in print and assigned Elder Delbert L. Stapley to dissuade Juanita. It is possible that had Stapley proceeded with tact, he could have achieved his goal. Instead, he commanded Juanita to desist, and Juanita was not a person to be commanded.
Stapley summoned Juanita to a private interview in June, 1961. When she expressed her conviction that God had purposely delayed the printing of her biography so that news of the reinstatement could be included, the apostle, in her words, "just slapped the table and said, 'IT IS FROM THE DEVIL.'" By way of compromise a subdued Juanita promised to omit the announcement from the first edition of the biography. Members of the Lee family, taking President McKay's threat seriously, congratulated her for her compliance. She responded with particular anger to a letter from Jesse Udall, a justice of the Arizona state supreme court and husband of a Lee granddaughter. "I do think," Juanita wrote, "that as an honest historian—as I have tried to be—I owe it to myself and to my readers to tell all the truth, for truth suppressed is its own kind of a lie. So to protect your integrity and to help you keep your word, I must act the part of a prevaricator myself in that I fail to use important and pertinent information or deliberately pretend that I do not have it. This is a role which I do not enjoy playing."
Elder Stapley and his confederates among the Lees now suspected that Juanita planned to publish a second edition of the biography simultaneously with the first. Her strategy, it appeared, was to provide a small first edition without the announcement for the Lee family, who would thereby be free from the onus of violating President McKay's order. Consequently, in early July Jesse Udall invited Juanita to a meeting in his home in Phoenix with some twenty-five members of the Lee family, most of whom were prominent in church and business affairs. According to Juanita, Udall spoke first, "bearing his testimony to the fact that Pres. McKay was God's mouth-piece on earth, and that if we did not obey his demands, he would rescind the earlier action." One by one the others bore a similar testimony. When at last it was her turn to speak, Juanita stubbornly maintained her righteousness. "I told them that I could bear as fervent a testimony as any there, that I had seen instances of healing, of answer to prayer; that I had worked in every organization of the Church where women work, from organist in Primary to Stake President of Relief Society; that I always carried a Temple Recommend in my purse, though I did not often use it."
It was altogether, as Juanita later wrote, a "horrible, horrible afternoon." The next day she returned by air to Salt Lake and on the following day wrote final instructions to her publisher. Within a few weeks Clark printed 200 copies of a first edition of the biography, dated 1961. Upon completing this run, Clark immediately proceeded to a large printing of a second edition, dated 1962, which ended with the announcement of the reinstatement.
The biography of John D. Lee was Juanita's most skillfully written book and, next to her history of the massacre, her most famous, being widely reviewed in scholarly journals and big city newspapers. Numerous reviewers congratulated the Church for Lee's reinstatement, which perhaps had a bearing upon the fact that President McKay neither rescinded the reinstatement nor excommunicated Juanita. Nonetheless, Juanita never had greater reason to fear excommunication than during the summer and fall of 1961. Undoubtedly she incessantly weighed the dubious advantages of announcing the reinstatement against the drastic changes which would enter her life should she be excommunicated. Again a variety of motives contributed to her perseverance. Among them, unquestionably, was her rancor against the over-bearing male personalities of Delbert Stapley and Jesse Udall. Ultimately the most telling and the most admirable—the most clearly heroic—was her veneration for truth in the abstract. I for one believe the clause Juanita wrote in her angry letter to Udall, that "truth suppressed is its own kind of a lie," gives a masterful, unexcelled expression to a timeless verity. Human beings are all too prone to worship truth colored by bias, partisanship, and vested interest. It is easy for us to give our hearts to a truth which comforts and flatters. It is easy, that is to say, for us to forget the dignity of objective truth. Truth derived from evidence, from careful thought and scientific investigation, usually appears to us as dull, trivial, and inert. It requires a Juanita Brooks with her dispassionate study of a volatile topic and her insistence that her study be recognized and countenanced to remind us that a respect for objective truth looms large among those qualities which distinguish the human spirit from a merely animal psyche.
I will turn now to virtues chiefly connected with Juanita's domestic life. A gregarious, compulsively social person, Juanita was constantly enmeshed in family and community affairs. Although she managed her finances shrewdly, she shared willingly with her loved ones. After she became an instructor at Dixie, she took in a succession of brothers and sisters, generally mothering them and buying them clothes and other necessities so that they could attend high school or college. In later years, she and Will opened their home for extended periods to nephews, nieces, and grandchildren. An instance of her generosity occurred in the fall of 1953 when Juanita's stepson Clair and his wife LaVon returned from Provo so discouraged over their inability to locate housing suited to their budget that they spoke gloomily of abandoning Clair's plans to attend BYU. Juanita traveled to Provo, searched for a day, and made a substantial down payment on a small house from savings she and Will had hoped to apply toward a new house for themselves. As Will later expressed it, Juanita "had chosen to invest what we had in a boy rather than a house." Juanita was similarly generous in sharing her store of knowledge. Today her files are replete with carbons of her patient, fact-filled replies to correspondents who requested historical or genealogical information.
Another of her virtues was sympathy for the dissenters and nonconformists who sought her out or otherwise came to her attention. She particularly sympathized with the persecuted Mormon polygamists in nearby communities, who in her view were living replicas of her own pioneer ancestors. She was angered when Arizona authorities arrested and deported the entire population of Colorado City in July, 1953. Moreover, she attempted to intervene, in vain as it turned out, when in early 1956 Utah authorities forcibly removed the children of a Short Creek woman who had refused to renounce polygamy. With scathing indignation Juanita described the separation of this mother from her children as "the most wicked thing that has been done in our state since the Mountain Meadows Massacre."
A related virtue was her Christian compassion. It is to be noted that Juanita was not a punctilious observer of her religion. Although she generally conformed to the Latter-day Saint regi­men, she often missed meetings and was perfectly willing to have a cup of coffee before attending a temple session. Yet the observance of the Sacrament, as Mormons call the ritual of the Lord's Last Supper, was deeply meaningful to her. In her view, the obedience she vowed by partaking of the consecrated bread and water consisted not of petty formalities but of compassionate service to the needy, the distraught, and the dying. For example, on a May evening in 1966 Juanita felt impressed to enter the home of a terminally ill neighbor who had just returned from treatments in Salt Lake. She found this young woman suffering from an excruciating rash over her entire body. She bathed her in a tepid solution of baking soda and gave her a massage and words of encouragement. She returned daily until the rash had disappeared and the neighbor had made a temporary improvement. "Sometimes I wonder if I should do it, because it takes me from what I am supposed to be doing and paid for doing," she wrote, referring to a neglected writing project, "and yet it is a place where Christianity certainly needs to be a matter of action rather than words."
These domestic virtues, I am suggesting, are admirable but not rare. What made Juanita's domestic life extraordinary was that she pursued it in unstinting amplitude while she also achieved an exceptional professional career. Generally speaking, those who devote themselves emphatically to a career must subordinate their domestic life. For ages it has been the privilege of men to do this. In the present age it is also the privilege of women. Unfortunately, this privilege comes to women with complications. If they wish to fulfill their capacity to bear and nurture children, they must often compromise their professional ambitions. This complication is so real that, according to a recent Time article, management theorists have devised the so-called "Mommy Track," a career avenue directing women who wish to bear children toward middle or lower executive positions on the assumption they will lack the time and commitment to succeed in the highest rank.
On first glance Juanita would seem to be precisely a case in point. With considerable regret she abandoned a promising academic career in 1933 in order to marry Will Brooks and begin a new family. Had she remained single, it is probable that she would have gained a Ph.D. in English, joined a university faculty, and written books of literary criticism. However, her choice led to a different kind of professional achievement whose fame far exceeded any she could have hoped for had not her new circumstances turned her attention to the untold saga of the massacre.
One must recognize the contribution Juanita's husband made to her success. A sincere believer in his wife's talent, Will frequently kept house, especially during the years following his retirement, and was intimately involved in the nurture of their children. Nonetheless, Juanita's reconciliation of her domestic life and professional endeavor was anything but easy. She had in her mother and grandmothers a powerful model for a home-centered womanhood. The influence of that pattern upon Juanita may be measured by an address she made in 1964 to the women students of Southern Utah State College. Marriage, she emphatically stated, should be the objective of her young listeners. "Do, by all means, get a ring on your third-finger left. And do support your husband in every way." With her role as wife and mother secure, Juanita went on, a woman should look for private fulfillment in a "creative activity—handwork, flower culture, flower arrangement, interior decoration, music—vocal or instrumental—or any one of many other hobbies." Astonishingly, Juanita described her own professional career as a hobby on the order of the handwork and flower arrangement she had recommended to her listeners. She belittled her professional achievement partly because she judged the young women of this rural college to have exclusively domestic interests and partly because she sincerely identified herself chiefly as a wife and mother.
One problem Juanita faced in reconciling her domestic and professional selves, then, was a matter of image. A woman who collected diaries and wrote histories and biographies simply did not fit the Dixie pattern. An even more substantial problem was her inability to find time to write, a handicap she constantly lamented in her letters to Dale Morgan. With a single exception, all of the many works she wrote or edited she did at home. For years she kept her portable typewriter and her working docu­ments on a table in her kitchen. In the winter she sometimes typed while seated on the sturdy oven door of her wood burning kitchen range. Needless to say, she was enormously susceptible to interruptions. After all, her children were healthy and exuberant, and her husband, though supportive and considerate, was busy earning a living and engaging in church and civic affairs. She duteously baked bread and prepared meals and in season processed butchered hogs and bottled unending bushels of fruit and vegetables. Furthermore, she belonged to a literary club, taught Sunday School classes, and was frequently involved in church and community projects.
Juanita fulfilled her obligations as a housewife and at the same time pursued a professional career through an extraordinary combination of ingenuity and energy. One sees ingenuity, for example, in a ruse she described for Dale Morgan in early 1943: "I long ago hit upon the expedient of keeping my ironing set-up out with everything ready, so that as soon as there was a knock I could plug in the iron on my way to answer the door. Then it would be easy to say; 'Excuse me, please, my iron is burning,' or 'Come on in. I'm ironing.' Then as soon as they left I'd pull out the plug. It isn't economical, I know, and it kept the clothes lying dampened too long sometimes. My next neighbor to the south has a habit of running in every morning about 11 o'clock and she finally said, 'My, you must have big ironings. You have been at it for three mornings now.'"
"I didn't tell her, but I should have, that all the ironing I had done she had watched me do. Once that is out of the way for a week, I keep the most urgent of the mending in a neat pile on the table, with a threaded needle stuck into it, so that I can shift to that when I am interrupted. But as soon as she gets what she wants, I go immediately back to the typewriter without taking another stitch. The trouble is, I get more ironing and mending done than I do writing."
In later years Juanita repeated this account before delighted audiences, who laughed all the more heartily when she informed them that, before answering a knock at the door, she had covered her typewriter with a cloth, thereby concealing from her caller the fact that she had been engaged in the eccentric activity of writing.
Even more important than ingenuity in Juanita's endeavor to be both a housewife and a historian was an uncommon stamina. While her children were growing up, she did most of her writing in the wee hours of the morning. She often wrote till one or two and rose again at five to put in an hour or so before preparing breakfast for her family. She had a tolerance for strenuous travel, in which she engaged with astonishing frequency. For a decade she traveled several times a year to California to confer about the diaries she collected for the Huntington. Over a much longer period she traveled extensively in Utah to search for diaries, to consult with editors and historians, and to give speech­es. An apt symbol for a transition between her domestic and pro­fessional worlds was the night bus by which she usually traveled in order to minimize her absence from her family. She dozed amid the bus's roar and vibration and arrived at her destination, if not refreshed, at least ready for the work at hand.
Her endurance may be seen in a trip she made in 1947 in search for materials related to the massacre, a trip involving airplanes as well as buses. She left St. George by bus on a Monday evening. On Tuesday, after a morning's work in Salt Lake, she flew to San Francisco. Wednesday, Thursday, and Friday she spent in the Bancroft Library at Berkeley. Friday night she took a bus for Los Angeles, and she spent Saturday in the Huntington. Saturday night, rather than taking the bus for home, she stayed in Los Angeles with friends whom she had especially wanted to visit. Sunday morning found her in the Los Angeles airport, penciling a letter to Morgan. She would shortly take off in a com­muter plane for Cedar City. She didn't know whether she would take a bus or hitch a ride to St. George. "But I'll be there," she wrote Morgan, "in time to cook the evening meal, I'll bet."
In conclusion, I will return to the theme of my title, Juanita's saving virtues and pardonable vices. The day will come when God sees fit to release Juanita's soul from that ruined house, her body. If, as I contemplate that day, I imagine the cosmos as Dante believed it to be, I foresee Juanita entered upon the seven-terraced mountain of purgatory. Later, having been purged of her venial sins, she will ascend past the various heavens repre­sented by the seven planets and primum mobile. She will not pause, as some do, in one of these lesser heavens, but will ascend at last to the pure empyrean where God dwells with his angels and his redeemed in an everlasting ecstasy of light. I am aware of the incongruity of placing the soul of this daughter of Mormon pioneers into a paradise conceived by a medieval Catholic poet. Yet the figure this fancy presents is useful in summarizing the significance of this remarkable woman.
Some reviewers have complained that my biography of Juanita contains too much domestic detail. Perhaps it does. My reason for including an abundance of domestic detail was that I wanted readers to know that Juanita's extraordinary achievement occurred in a context of the routine and everyday. I hope I have accentuated my point in the present essay. Like other decent, respectable people Juanita possessed her pardonable vices: her foibles, her crotchets, her eccentricities. She held grudges and spoke tactlessly, and she sometimes gave a more lustrous polish to her personal image than facts would warrant. Like other decent, respectable people she possessed a long catalog of admirable but not rare virtues. She was ambitious and energetic, and she was generous with both her time and means. She sympathized with the downtrodden and rejected, and she lived by a religion of compassion rather than of punctilious ritual.
It is important, I have been saying, to see the ordinary in Juanita in order to better see the superlative, for ultimately she was, in certain crucial ways, extraordinary. Through her devotion to objective truth and her adroit reconciliation of inimical social roles she became an authentic hero. When her impulse to tell the story of the Mountain Meadows massacre with the objectivity of the professional historian came into conflict with the desire of her church to leave the sordid tale unstirred, she insisted upon the facts with pluck and integrity, and eventually she triumphed. In doing so, she served her fellow Mormons better than they had anticipated, for her writings on the massacre, though historical in genre, achieved the cathartic effect of literary tragedy, leading her readers to peace and acquiescence.
Juanita was a realist's hero. The world is inundated with heroes of an idealized sort. Novels, movies, TV shows, and popular biographies pour them forth in multitudes. I for one am unimpressed by heroes who loom larger than life. Before I can pay homage to a superlative person, I have to believe such a person is real. During most of her hours Juanita was as ordinary as you or I. She was a hero with her hands in the kitchen sink. I find in that fact all the more reason to praise her.