The Juanita Brooks Lecture Series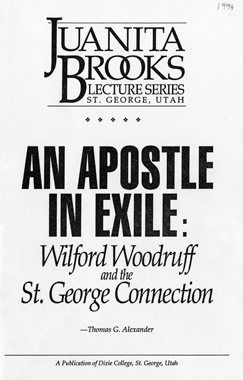 An Apostle in Exile: Wilford Woodruff and the St. George Connection
By Thomas G. Alexander1
---
Although Wilford Woodruff had visited St. George a number of times with Brigham Young as the Mormon Church President made tours through the Southern Utah settlements, the aging apostle became intimately associated with the community first in 1876. Between 1876 and the death of John Taylor in 1887, Woodruff probably spent more time in St. George than in any other city. Utah's Dixie became his, in effect, a second home.
Thomas G. Alexander is Lemuel Hardison Redd, Jr. Professor of Western American History at Brigham Young University. The author thanks lan Barber, Harvard Heath, Jennie Lund, Rick Pish, Bryan Taylor, Gertrud Steifler, Marcelo Gigena, David Hall, Irene Fuja, Kris Nelson, and Jessie Embry for their help in preparing this paper. I appreciate also sources supplied by the Library and Archives of the Church of Jesus Christ of Latter-day Saints, the Lee Library at Brigham Young University, the Marriott Library at the University of Utah, the Library of the Utah State Historical Society, the Henry E. Huntington Library and Art Gallery, and the Beiecke and Sterling Libraries at Yale University in preparation for larger study from which this paper derives.
He knew St. George from previous visits with Brigham Young and other leaders. In 1869, for instance, realizing that the builders of the Union and Central Pacific had decided to bypass Salt Lake City, church leaders saw little reason to remain in northern Utah for the marriage of the two lines. After April 1869 conference, Brigham Young, Wilford Woodruff, Daniel H. Wells, George Q. Cannon, and other church leaders left to visit St. George and communities in central and southern Utah.1
As the St. George Temple neared completion late in 1876, a party of general authorities descended on the city. On November 1, Brigham Young, Wilford Woodruff, George Q. Cannon, Brigham Young, Jr., and Truman O. Angell left for St. George. Arriving on November 9, Woodruff commented on the view of the St. George Temple which he thought "a glorious Sight .... white as snow both inside and out, ... a Beautiful Contrast with the red appearance of the surrounding Country."2
After attending St. George stake conference. Woodruff and the others helped to prepare the temple for dedication. The apostle worked with Young in deciding how to arrange the rooms for endowments.3 They worked out the problems of channeling a water supply to the temple, and Woodruff supervised women from the community in sewing carpets for the floors.4 In October 1877, ten months after the dedication. Woodruff and St. George leader and Apostle Erastus Snow helped select a central heating system for the temple.5
Still, during the 1876 visit Woodruff did not spend all his time working on the temple. He and the other general authorities visited wards in Santa Clara, Washington, Pine Valley, Harrisburg, and elsewhere to speak in meetings. While in St. George, Woodruff wrote a biographical sketch on his wife Phebe Whittemore Carter Woodruff probably for inclusion in Edward Tullidge's Women of Mormondom. Taking time out from work, he hunted quail; and he read David Livingston's account of his explorations in Africa.
On January 1, 1877, 2,000 Saints met to dedicate the completed portions of the temple.6 Young, who was just recovering from a severe bout of rheumatism in his legs and feet, called on Woodruff to conduct the services, to offer the dedicatory prayer, and to preside over the temple.7 Woodruff collaborated with Alexander F. McDonald and Brigham Young, Jr. in writing down the ceremonies for use in temple ordinances. He had already begun extensive research on the genealogy of his family, and after assuming the temple presidency he plunged into preparing records for vicarious baptisms and endowments.8
Woodruff performed the first ordinances in the temple on January 9,1877 when he, Brigham Young, John L. Smith, John D. T. McAllister, A. H. Raleigh, Henry W. Bigler, and Erastus Snow conducted vicarious baptisms for 144 dead.9 Woodruff called McAllister, the St. George Stake President, David H. Cannon, a brother of George Q. Cannon, and James G. Bleak, record keeper for the Dixie Mission, to work in the temple. Eventually McAllister and Cannon became his counselors, and during his frequent absences, McAllister took charge.10 From January to August 30, 1877 when he was called back to Salt Lake City, he spent perhaps 80 percent of his daytime hours officiating in the temple. He took time off only for visits to southern Utah communities, recreation, and church services.
Vicarious ordinances for the dead became a driving passion for the septigenerian apostle. On February 23, 1877, while "meeting at the altar" in the temple he received a revelation on the redemption of the dead. In the revelation Woodruff was told to assemble "the virgins. Maidens, Daughters, & Mothers in Zion" on his seventieth birthday (March 1,1877) to receive "their washing and Anointing and Endowments for" a large group of women sealed vicariously to him, "and," the revelation continued, "the dead of my servant shall be redeemed in the spirit world and be prepared to meet my servant at the time of [Christ's] … coming which shall be at the time appointed unto him, though not revealed to man in the flesh."11
In addition to these women, he compiled a list of deceased relatives from his ancestors—the Thompson, the Hart, and the Woodruff families—who had not been endowed. After consulting with Young, Woodruff recruited 154 women from St. George to assist him, including three of the church president's wives and four of his daughters. On the morning of March 1, 1877 Woodruff stood before the assembly in a white doeskin suit he had specially made to wear when he officiated in the temple and explained his revelation and the purpose of their work. Each of them participated in washings and anointing and endowments for the deceased women. Afterward a number of community leaders escorted Woodruff to a surprise birthday party at the St. George Hall.12
Obviously enthused by the festivities and convinced of the divinity of Woodruff's revelation, Brigham Young offered Woodruff his twenty-five-year-old recently-divorced daughter, Eudora Lovina, as a plural wife. Wilford accepted and was sealed to Eudora on March 10. They consummated their marriage the next day, Sunday, and Eudora received her second anointing with Woodruff on the 21st. She seems to have borne only one child by Woodruff, who died shortly after birth, and the two seldom spent time together.13 She eventually divorced him and later eloped to the Pacific Northwest with a married man, Judge Albert Hagan.14
Shortly after his birthday celebration, Wilford sent for his first wife Phebe and three of their four living children, Wilford Jr., Bulah, and Phebe Amelia, to participate in additional ceremonies.15 Arriving six days after his marriage to Eudora, Phebe and their children remained until April 14, 1877. These relatives and others participated in endowments and second anointings for unendowed members of the Woodruff, Hart, Thompson, and Carter families and for the elderly Simsbury, Connecticut prophet Robert Mason, who had influenced Woodruff so profoundly as he sought spiritual guidance during his youth. On April 13, the day before Phebe and their children left to return to Salt Lake City, Woodruff vicariously adopted Mason and a number of relatives to him. Wilford and Phebe were then adopted to Wilford's deceased father Aphek Woodruff.16
While temple president, Woodruff lost few opportunities to perform work for the dead. He received a telegram that went twenty-year-old Brigham Young Woodruff, son of his third wife Sarah Browns, had drowned on June 16, 1977 in the Bear River while hunting near their home at Smithfield.17 On July 5, he sealed five single women to his deceased son.18
This concern with vicarious work for the dead led to personal revelations and manifestations that opened new directions of temple services. Shortly before he returned to Salt Lake City in August 1877, Woodruff inaugurated vicarious services for a large group of people not in his direct ancestral line or within the range of his personal acquaintances.
Inspired by a personal manifestation, he spent the evening of Sunday, August 19, 1877, preparing a list of "Noted Men of the 17 Century and 18th" for baptism. Though he did not record the incident in his journal, he later reported that the signers of the Declaration of Independence had visited him in a dream or vision. They urged him to help redeem them by doing their temple work.19
The list of people scheduled for vicarious work included more than just the signers of the Declaration of Independence. In addition it encompassed all deceased presidents of the United States except Van Buren and Buchanan, both of whom had heaped abuse upon the Latter-day Saints. It also included a large number of authors, artists, statesmen, explorers, actors, inventors, religious reformers, and military figures, principally from the United States, Great Britain, and Germany. Woodruff also prepared a list of seventy eminent women, including political and literary figures such as Martha Washington, Charlotte Bronte, Jane Austen, Elizabeth Barrett Browning, Marie Antoinette, Maria Theresa, and Charlotte Corday. On August 21, he and his mother-in-law Lucy Bigelow Young were baptized for all of these men and women.20 From August 22 to 24 he performed vicarious ordinations and endowments for as many of the men as he could, beginning with George Washington, John Wesley, Benjamin Franklin, and Christopher Columbus.21
A message from Salt Lake City on Monday, August 27, cut short this work for a time. Learning that the attending physicians, family members, and friends did not expect Brigham Young to live. Woodruff stopped the endowment work and called the temple workers together in prayer circles on behalf of the critically ill prophet on August 27, 28, and 29. Then late in the afternoon of August 29, he received word that Young had died. Catching a stage to the railhead at York near the Utah-Juab County line. Woodruff and Erastus Snow left for Salt Lake City, where they met with all the apostles except Orson Pratt and Joseph F. Smith, who were serving missions in England.22
On Sunday, September 2, 1877, Woodruff gathered with some 25,000 others to pay their last respects to the deceased prophet. George Q. Cannon conducted the funeral, and Daniel H. Wells, Wilford Woodruff, John Taylor, and Cannon offered eulogies. Woodruff dedicated the grave site at Young's private cemetery about a block northeast of the Beehive house.
Woodruff did not return immediately to St. George. As had happened each time since Joseph Smith's death, the Twelve now assumed leadership of the church, and responsibilities as a senior member of the quorum burdened him with additional administrative duties that kept him in northern Utah. Meeting in council on September 4, 1877 the apostles sustained John Taylor as president of the Quorum of the Twelve and Brigham Young's former counselors John W. Young and Daniel H. Wells, who had been called as apostles but not as members of the Twelve, as counselors to the Twelve.23 Unable to agree on reorganizing the First Presidency, the Twelve governed as a collective leadership until they called John Taylor as president at the October 1880 conference. At the same time they called Woodruff as president of the Twelve.
In January 1878, Woodruff returned to St. George to resume his duties as president of the temple and to attend to other responsibilities. He visited the Saints in other communities in southern Utah. He attended meetings of the High Council called to decide the disposition of water flowing in Santa Clara Creek from Pine Valley.24 He remained until March 20,1878, and he returned again to St. George on January 20, 1879.25 In the latter month, much to the horror of Mormons, the United States Supreme Court sustained the conviction of George Reynolds for polygamy. In a decision written by Chief Justice Morrison R. Waite, the court said that in using their first amendment rights to the free exercise of religion. Mormons could believe what they wished, but they could not undermine good order by attacking basic institutions such as monogamous marriage and the traditional family. In other words, they could not legally practice polygamy.26
The month after the Reynolds decision, the U.S. marshal for Utah hurried to St. George in search of polygamists in general and Wilford Woodruff in particular.27 Trying to hide out from the marshal. Woodruff moved into the temple for a short time beginning on February 5, 1879. It may have been at that time that a Swiss bishop from Santa Clara in a Sunday meeting prayer prayed, "and bless the marshals that they may not find Brother Woodruff who is hiding in the St. George Temple."28 On February 7, David Cannon spirited him away from St. George by team and wagon. Woodruff confided to his journal that for the first time in his life he had "to flee from my Enemies for the gospels sake or from any other Cause. They are now trying to arrest me on Poligamy."29 Seeking refuge first in the vast desert southwest of St. George, Woodruff and several others went to Bunkerville, Nevada. He and the others shot duck and quail to feed themselves.
In late February 1879 Woodruff returned briefly to Santa Clara and to St. George, where he spent his 72nd birthday hiding out in an upper room of the temple. He left the room long enough to meet with a company of Saints who had come to the temple to celebrate his birthday by participating in vicarious ordinances.30 While hiding in the temple, he completed a general epistle to the Saints he had begun writing in Santa Clara. In it he predicted the judgments of the Lord would fall on the nation in retribution for their persecution of the Saints.31
On March 6, he left St. George fleeing southeast with Erastus Snow. The two of them held conferences in Kanab, then rode on by way of Lees Ferry to Moencopi and Tuba City. Visiting Indians and Mormon colonists in northern Arizona and New Mexico, he took time out to hunt ducks with his dog Bobby.32 He lingered in northern Arizona until early 1880 when John Taylor called him to return to Salt Lake City for April conference. By that time the Supreme Court had ruled in the John Miles case that the federal government had to provide positive evidence—either through documents or eye-witnesses—that a couple had been married in order to convict the husband under the 1862 Morrill Act. Since documents were largely unavailable and eyewitnesses generally refused to testify, this decision freed Woodruff and other church leaders to appear in public until enforcement of the 1882 Edmunds Act again sent them into hiding.33
In late January 1880 Woodruff holed up at a sheepherders' camp in the wilderness of Arizona's San Francisco Mountains west of the Little Colorado.34 Surrounded by the harsh solitude of a high-country winter, he spent January 26th reading letters from relatives and friends including George Reynolds, Ammon Tenney and his wife Sarah, and he fumed over a series of anti-Mormon lectures. Retiring to his tent "filled with Prayer and Meditation," he awoke "about Midnight." Feeling the spirit of the Lord "poured out" upon him, his mind opened to "Comprehend in a good measure the mind and will of God and his purposes Concerning our Nation and the inhabitants of Zion." Recognizing the responsibility the apostles bore "in the sight of God and the Heavenly Hosts," his heart filled with emotion, and tears wet his pillow "as with the dews of heaven."35 The following day he recorded the previous night's revelation and on January 28 he was "again wrapped in vision during a good deal of the night Concerning the destiny of our Nation and of Zion."
In writing the wilderness revelation Woodruff branded the pages with apocalyptic fire. The message emphasized nearness of Christ's second coming, the pending judgments of God upon the nation, the divinity of plural marriage, the need for purity and blamelessness among the Saints, and the Lord's approval of the labors of the Twelve. In a prophetic mood Woodruff wrote that the Lord would fulfill his purposes by pouring out his "wrath and indignation … upon the wicked." "I have," the revelation said, "decreed Plagues to go forth and lay waste mine Enemies and not many years hence they shall not be left to pollute mine heritage. The Devil is ruling over his Kingdom and … stirs them up to defy my Power, and to make war upon my Saints." "The Nation," the revelation continued, "is ripened in iniquity and the Cup of the wrath of mine indignation is full, and I will not Stay my hand in Judgment upon this Nation or the Nations of the Earth."
Linking the looming apocalypse to the Saints' persecutors, the Lord identified those targeted for his wrath. In a comprehensive list, the text named the President of the United States, members of the Supreme Court, Cabinet, Senate, and House of Representatives; governors of various states and territories; judges and officials; Missouri and Illinois mobbers; and others "who have taken part in persecuting you or Bringing distress upon you or your families or have sought your lives or sought to hinder you from keeping my Commandments or from Enjoying the rights which the Constitutional Laws of the Land guarantee unto you."36 The revelation promised that God would pour out his judgment upon "that Nation or House or people, who seek to hinder my People from obeying the Patriarchal Law of Abraham which leadeth to a Celestial Glory which has been revealed unto my Saints through the mouth of my servant Joseph."
The prophecy also disclosed that Saints themselves shouldered certain responsibilities. While God poured out his judgments on the United States, the Saints must remain separated, pure, and worthy of the Lord's blessings. Any who had committed adultery or who had blasphemed "my name and those who love and make a lie" must repent "of their wickedness and Abominations" or they would be "severed from the ordinances of my house Saith the Lord."
In the wilderness revelation Jesus accepted the labors of the Twelve, assuring them that He, the Father, and the hosts of heaven knew of their faithfulness. Jesus said that he would return soon, but in the meantime, the apostles should "seek diligently to build up Zion and magnify your high Calling." If they did so their "enemies shall not prevail over you. Zion shall not be moved out of her Place. Zion shall prevail against her enemies. My People shall not be hindered in the building of my Temples unto my Holy Name if they will harken to my voice and do as I Command them." After Christ's return, the Twelve would sit "upon Thrones and Judge the Gentiles and all of the inhabitants of the Earth unto whom you have borne Testimony of my name in the day and Generation in which you live."
The revelation instructed Woodruff to call on the Twelve to offer a testimony in innocence against those who had persecuted the Saints. Specifically, the revelation said that apostles must cleanse their feet with pure water as a witness to the Lord, clothe themselves in "the Robes of the Holy Priesthood," and bear a testimony through prayer against a specific list of persecutors.
Returning to Salt Lake City for spring conference in 1880, Woodruff presented the revelation to the Twelve on April 4 for their approval. Eighteen days later the Twelve accepted the revelation "as the word of the Lord" and on January 19, 1881, members of the Twelve, First Presidency, and Presiding Bishopric within reasonable traveling distance together with the patriarch to the church gathered in a prayer circle. Even Charles C. Rich, debilitated from a recent stroke, and Orson Pratt, enfeebled by an advanced case of diabetes, met for this occasion. Absent were George Q. Cannon, then representing Utah in Congress, Brigham Young, Jr., Moses Thatcher, Erastus Snow, and John W. Taylor of the Twelve, all away on assignments.
Those present washed their feet "against Our Enemies and the Enemies of the Kingdom of God" as commanded.37 Kneeling at the alter, John Taylor presented Woodruff's written prayer fulfilling the requirements of the revelation and containing a list of names of those who had "made war against Thee and thy kingdom and thine anointed ones," asking that their names be remembered for evil and that their destruction come soon. The prayer called on the Lord to "protect thy Church, thy Kingdom and thy people from the Power of the wicked" and asked that he inhibit the nation from preventing "thy Saints from keeping thy Commandments, from building the Temples of our God and redeeming Our dead."38
Between 1880 and 1885, Woodruff spent most of the springs, summers, and early falls in northern Utah. He returned to St. George only for occasional visits. Between February and April 1881, when he returned to St. George, the Utah Southern Railroad extension had reached Milford, and the wagon journey to St. George was shorter. It is not always clear just where he stayed when he came to Utah's Dixie, but he seems to have slept generally in the upper room of the temple.39 He returned again on a circuit of stake conference visits during the late fall of 1881. He also came back to St. George in December 1883 for about two weeks.40
Despite passage of the 1882 Edmunds Act which made polygamists liable for prosecution for unlawful cohabitation, until August 1884, the church stood in the calm eye of a hurricane. Unlawful cohabitation was much easier to prove than polygamy because the prosecution only had to show that the accused held more than one woman out to the world as his wife, but the government had worked out no systematic means of arresting and prosecuting Edmunds Act violators. Thus Woodruff and other church leaders continued their routine duties. Woodruff met in council with the Twelve and First Presidency, attended stake and general conferences, presided occasionally over ordinances in the St. George temple—of which he was still president—and advised local and general church leaders on the construction of two new temples in Manti and Logan, Utah.
In August 1884 the whirlwind finally descended on the Utah community. In advance of the tempest, Charles S. Zane of Illinois rode to Utah to assume the posts of Chief Justice of the Utah Territorial Supreme Court and judge of the third judicial district, headquartered in Salt Lake City. Working with U.S. district attorney William H. Dickson, who pressed for grand jury indictments, and U.S. Marshal Edwin A. Ireland and his deputies, who scoured the country looking for cohabs, Zane and his fellow judges began systematic prosecution and conviction. Soon the territorial penitentiary in Sugarhouse burst its seams with unrepentant polygamists.41
Marshal Ireland's raids sent Woodruff, Taylor, Cannon, Joseph F. Smith, and others to the underground. Living in Salt Lake City at the time. Woodruff saw someone watching his home on Sunday, January 11, 1885. He spent most of the next week arranging his affairs while secreting himself in the Salt Lake Seventeenth Ward meetinghouse. Writing to his plural wives Sarah, Emma, and Delight, he stopped to bless his first wife Phebe, who was extremely ill. Then late on the afternoon of January 17th he had his son Wilford Jr. drive him to the Utah Southern railway tracks west of the city where he boarded a private car owned by Samuel Hill, a director of the railroad. Traveling to Nephi, the train stopped for George Teasdale, then serving in Juab County as resident apostle and stake president. The two rode to Milford, where a carriage met them and took them to St. George.42
Teasdale went on to Mexico and eventually to Europe, but Woodruff remained in St. George from January 20, 1885 until November when he received "a letter calling me to Salt Lake."43 While in St. George he lived at the temple and with Thomas Cottam and William Squires and William Atkin at his farm in Atkinville near Bloomington. Hiding out under the name of Lewis Alien, a boyhood friend from Connecticut, he carried out his duties as temple president and lived as normally as his furtive life allowed. He conducted temple sessions, visited conferences in southern Utah and southeastern Nevada; hunted ducks, rabbit, and quail; fished; and farmed.
The immediate reason for his return to Salt Lake City in November 1885 was a clandestine meeting of the Twelve to consider the membership of Apostle Albert Carrington and the status of John W. Young, an apostle and counselor to the Twelve. Meeting under cloak of darkness, as President of the Twelve Woodruff chaired the church court while the Twelve severed Carrington from the quorum and excommunicated him for adultery. Evidence showed that Carrington had been intimately involved with a woman over a twelve-year period dating from his service as president of the British Mission.44 Young's case involved neglect of duty because of railroad and other business dealings, and the Twelve agreed to recess the case pending the apostle's reformation.45
Events during Woodruff's stay in Salt Lake City tormented him deeply. On November 9 he risked a visit to Phebe. She had suffered a severe attack of "chills" about a month before, and during her sickness she had fallen and split her scalp. Their daughter Bulah, who lived down the block from the Valley House, Woodruff's home on the corner of South Temple and 1st West, said she thought her mother was dying. Recognizing the hand of death on Phebe's frail body. Woodruff blessed her and "anointed her for her burial." She died a few hours later.
Unable to attend the November 12 funeral for fear of arrest. Woodruff hid at the president's office between the Beehive and Lion Houses on South Temple while others conducted the services in the Fourteenth Ward schoolhouse. Shielded from public view he watched through the window as the hearse and funeral cortege carried his wife's remains to the cemetery, and reflected that he was "passing through a strange Chapter in the history of my life. Persecution is raging against the Latter Day Saints. [Still,] I am perfectly willing for my wife to lie down & go to sleep & be freed from … the persecution from the wicked." Standing in reverie, he prayed to remain faithful enough to meet his wife and friends in the celestial kingdom and "have part in the first Resurrection with the righteous."46 After Phebe died Woodruff wrote that because of her deteriorated health, he thought "Phebe better off to be at rest THAN TO LIVE longer in affliction."47
He would thereafter alternate between living on the farm with Emma, his second wife who now became his legal wife, staying with friends, traveling for the church, living in St. George, and, after his call as president of the church, living intermittently in the Second Empire Gardo House on South Temple.48 He returned with Emma to St. George in August, 1886. Arriving on the 7th, he left on September II.49 The two returned again to St. George on November 5. Throughout the entire year of 1886, Woodruff did not attend a single public meeting or officiate publicly in any church ordinances.50 Emma left for Salt Lake on January 28, 1887, but Wilford remained until July 17, 1887 when he left again for Salt Lake City.51
After Emma left, he spent part of the time in St. George at the temple and with Thomas Cottam, but lived principally with William Atkin at Atkinville. He obviously enjoyed fishing for chubs and shooting ducks at Atkin's pond. He also saw the portraits of himself and David Cannon commissioned for the temple and painted by Dan Weggeland.
During early 1887 John Taylor became increasingly infirm, and members of the Twelve began to contemplate a succession in the First Presidency. Before he learned of Taylor's condition, Woodruff had begun dreaming of the president's death. Living in St. George at the time. Woodruff received on March 20 a visit from Heber J. Grant who wanted to discuss "the temporal State of Church Matters." Concerned either that First Counselor George Q. Cannon might want to succeed Taylor, who was Cannon's uncle, or that Woodruff was too old to serve as church president, Grant asked Woodruff whether he knew "of any reason in the case of the [President's] death … why the Twelve Apostles should not Choose some other Person besides the President of the Twelve" for the position?52
Woodruff responded that he had "several vary strong reasons why they should not." With the president's death, he argued, the apostles became the presiding authority of the church. Thus the president of the Twelve was effectively church president "by virtue of his office as much while presiding over Twelve Apostles as while presiding over two as his Councillors." He said that none of the Twelve had ever claimed to preside over Brigham Young or John Taylor. Assuming the conservatism of church leadership, he thought that since a majority of the Twelve had to unite on the call, it seemed unreasonable to expect them to "depart from the path marked out by inspiration & followed by the Apostles in the death of Christ and also by the Twelve Apostles since the Death of Joseph Smith." He also wrote Grant a letter incorporating the substance of his views, emphasizing also that the Twelve should reorganize the First Presidency immediately rather than allowing for the long interregnum that had followed the deaths of Joseph Smith and Brigham Young.53
The question became actual rather than theoretical in July 1887 when Woodruff received word from John Jaques and George Q. Cannon that Taylor lay near death. Wilford left immediately, but got no further than Richfield before he learned that the president had died. Transfixed by the burden now laid upon him, Wilford called upon God to prepare him "for whatever awaits him on Earth and have power to perform whatever is required at his hands by the God of Heaven." After reaching Salt Lake City he hid out to watch Taylor's funeral cortege through the same windows he had viewed Phebe's two years earlier.54
After Taylor's death Woodruff remained most of his life in Salt Lake City John D. T. McAllister replaced him as St. George Temple president. Leaving Salt Lake to visit Mormon settlements and take tours to Pacific coastal cities, he remained generally at the Church's headquarters. Nevertheless, he continued to correspond with his friends in southwestern Utah particularly William Atkin with whom he had spent so many pleasant hours.
Undoubtedly his most creative spiritual work had occurred while he presided over the St. George Temple. Inspired by revelations and visitations calling him to expand vicarious work for the dead, he inaugurated temple work for deceased people he did not know. The inspiration to perform baptisms and endowments for famous men and women opened a new path in vicarious work for the dead. Previously, LDS Church members had done such work only for deceased family members or close associates. Afterward, vicarious work expanded to include the ordinances with which most members are familiar today.
Wilford Woodruff treasured St. George as a place of recreation, refuge, spiritual regeneration, and heartbreak.55 From St. George he visited communities in Southern Utah, Southeastern Nevada, and Northern Arizona. He was living in St. George when he learned of the terminal illness of both Brigham Young and John Taylor. He returned on occasion to preside over the St. George Temple after Young's death, turning the responsibility for the temple over to John D. T. McAllister only after the death of John Taylor. After the death of Phebe and Woodruff's decision to live with Emma Smith Woodruff as his visible wife, the United States Marshal, Frank Dyer told him he had no reason to remain in hiding, so he spent most of his tune living in the open in Salt Lake City.
Nevertheless, if Woodruff had a home anywhere outside northern Utah it was at St. George. In the southwestern Utah city he presided over the first temple in the far west. From there he visited the Saints and sought the Lord's will.56 Like John the Baptist in the wilderness. Woodruff found in the white walls of the temple, William Atkin's pond, and the Red Hills of November places of trial, refuge, and regeneration.
---
Notes
1 Wilford Woodruff, Journal of Wilford Woodruff, ed. Scott Kenney, 9 vols. (Midvale, UT: Signature Books, 1983-1985), 6: 473-74.
2 Woodruff Journal, 7:291 (November 9,10,1876).
3 Woodruff Journal, 7:292 (November 14,1876).
4 Woodruff Journal, 7:295-97.
5 Woodruff Journal, 7:376 (October 2,1877). The committee also included an unnamed Mr. James.
6 Ibid., 7:303-10.
7 For a summary of Woodruff's activities, see Wilford Woodruff, "History of the St. George Temple, its Cost and Dedication and the Labor Thereon," photocopy, 26 Mar. 1883, David Henry Cannon Papers, LDS archives.
8 Woodruff, Journal, 7:292-98 passim; 7:322,326,327.
9 Ibid., 7:321.
10 See Woodruff, "History of the St. George Temple."
11 Woodruff, Journal, 7:331 (the revelation was recorded on 1 Mar. 1877, though given on 23 Mar.)
12 Ibid., 7:329-36.
13 This is meant to be a comment on the condition of their marriage, not an apology for polygamy. Woodruff simply seems to have taken far less interest in his relationship with her than Phebe, Emma, Sarah, and Delight. Matthias F. Cowley does not list Eudora as one of Woodruff's wives. See Matthias F. Cowley, Wilford Woodruff: Fourth President of the Church of Jesus Christ of Latter-day Saints, history of His Life and Labors as Recorded in His Daily Joumals (Salt Lake City: Bookcraft, 1964), 689. On the marriage, see Woodruff Journal, 7:338,339,340. On the birth and death of his son see Woodruff Journal, 7:407 (April 1, 1878). Woodruff had earlier offered Young his daughter Phebe as a wife, but Young politely declined, after which the marriage to Lorenzo Snow was arranged. Woodruff, Journal, 5:22,278-79.
14 D. Michael Quinn, "LDS Church Authority and New Plural Marriages, 1890-1904," Dialogue: A Journal of Mormon Thought 18 (Spring 1985): 64. Quinn believes that the child was born and died on April 1, 1878, though the diary entry does not mention a name. Woodruff, Journal, 7:407. He also believes that the entry of November 25 in which Woodruff said that he "sent the bill" means the bill of divorce between Wilford and Eudora. Ibid., 429. Eudora had been previously married to Billy Dunford, cousin of Dr. Alma B. Dunford. After her divorce from Woodruff she eloped to Seattle with Judge Albert Hagan, breaking up his marriage. Salt Lake Herald, February 3, 1905.
15 Of his and Phebe's living children, only Susan Cornelia Woodruff Scholes, whose husband Robert, had become disaffected, and who had moved to Iowa, did not come.
16 Woodruff, Journal., 7:341-45.
17 Ibid., 7:354-55.
18 Woodruff also took this occasion to have a woman sealed to his brother Philo. Ibid., 7:358.
19 JH, 7 Oct. 1896.
20 For the complete list of men, see Woodruff, Journal, 7:367-68. The list of women taken from St. George temple records was supplied by Marie Cornwall.
21 Woodruff, Journal, 7:369.
22 Ibid., 7:370-71.
23 Ibid., 7:372.
24 Woodruff, Journal, 7:405 (March 18,1878).
25 Woodruff, Journal, 7:450 (January 21, 1879).
26 Reynolds v. United Sates 98 U.S. 145 (1879).
27 For the case, see ibid.
28 Quoted in Janice Force DeMille, The St. George Temple: First 100 Years (Hurricane: Homestead,1977), 191.
29 Woodruff, Journal, 7:454 (February 7, 1879).
30 Woodruff, Journal, 7:467 (February 18, March 1, 1879).
31 Woodruff, Journal, 7:457-67.
32 Woodruff, Journal, 7:476 (March 29, 1879).
33 Woodruff knew of Miles's conviction, sentence, and appeal, but his journal does not record the success of the appeal. Wilford Woodruff, Journal of Wilford Woodruff, ed. Scott Kenney, 9 vols. (Midvale, Ut: Signature Books, 1983-1985), 7:491. On the Miles case, see U.S. v. Miles, 103 U.S. 304 (1880).
34 The events surrounding the revelation are given in Woodruff, Journal. 7:546-47. The text of the revelation and prayer are recorded in ibid., 615-25.
35 Ibid, 7:546.
36 For the list of people, see "Names of Persons To be Held in Remembrance before the Lord for their Evil Deeds and Who have Raised Their Hands Against the Lord's Anointed," photocopy of MS, from "Materials from St. George Temple Picked Up and Brought Back by Lauritz G. Petersen and Thomas G. Truitt on January 15, 1973," in my possession.
37 Woodruff, Journal. 8:6-7.
38 The full text of the prayer is found in ibid., 7:621-25. Two copies are located in the Emma Smith Woodruff Collection, archives. Historical Department, Church of Jesus Christ of Latter-day Saints, Salt Lake City, Utah (hereafter cited as LDS archives).
39 Woodruff, Journal, 8:22 (March 18-April 1, 1881).
40 Woodruff, Journal, 8:211 (December 11,1883).
41 For a discussion of Zane's activities, see Thomas G. Alexander, "Charles S. Zane: Apostle of the New Era," Utah Historical Quarterly 34 (Fall 1966): 290-314.
42 Woodruff, Journal, 8: 298-99.
43 Ibid., 8:341.
44 Brigham Young, Jr., Journal, 6 Nov. 1885, LDS archives.
45 Woodruff, Journal, 8:342. Young had earlier been in hot water with the Twelve. In April 1881 the Twelve decided not to present the name of John W. Young as a counselor to the Twelve. In May the Twelve inquired into some irregularities in railroad contracts in which Young was involved. John Henry Smith Diary, 5 Apr., 20, 25 May 1881, Smith Family Papers, Special Collections, Marriott Library, University of Utah.
46 Woodruff, Journal, 8:343.
47 Lewis Alien (Woodruff) to William Atkin, 13 Dec. 1885, Woodruff-Atkin Correspondence, Utah Sate Historical Society, Salt Lake City, Utah.
48 Ibid., 7:344, 350.
49 Woodruff, Journal, 8:400 (August 7, 1886).
50 Woodruff, Journal, 8:416 (Year end synopsis).
51 Woodruff, Journal, 8:423.
52 On Grant's concern, see Heber J. Grant Journal, 20 Mar., 3 April 1887, LDS archives.
53 Woodruff, Journal, 8:431 (March 28, 1887).
54 Ibid., 8:448,440.
55 While living in St. George during late 1876 and early 1877, Woodruff put on considerable weight. He weighed 185 pounds when he arrived in the city, but a combination of freedom from hard physical labor and a table set with good meals added an additional twenty-five pounds by early February. This was a great deal of weight to carry on his five-foot-six inch frame. Wilford Woodruff to Emma Smith Woodruff, 22 Jan., 10 Feb. 1877, Emma Smith Woodruff collection. Smith Family Papers, Special collections, Marriott Library, University of Utah.
56 In July 1877, for instance, Brigham Young sent Woodruff and Erastus Snow to Beaver, a predominately Mormon town with a sizeable gentile population swollen by local mining operations, to look into allegations of political and social cooperation between Mormons, local apostates, and gentiles. "It will not do," he wrote, "for LDS to mix with the world." If leaders did not do something about conditions in that southern Utah community. Young thought they might possibly get "into the same condition as Tooele," where gentiles had captured control of the government. Brigham Young to Wilford Woodruff and Erastus Snow, 16 July 1877, Brigham young Letterbook, no. 15, 22-25, LDS archives. In response to Young's concerns. Woodruff and Snow met with priesthood holders in Beaver. In the meeting Woodruff "reproved them sharply for mingling with gentiles as they were doing and for their folly in dividing on their Election." Woodruff, Journal, 7:363.
---
1 Thomas G. Alexander is Lemuel Hardison Redd, Jr. Professor of Western American History at Brigham Young University. The author thanks Ian Barber, Harvard Heath, Jennie Lund, Rick Fish, Bryan Taylor, Gertrud Steifler, Marcello Gigena, David Hall, Irene Fuja, Kris Nelson, and Jessie Embry for their help in preparing this paper. I appreciate also sources supplied by the Library and Archives of the Church of Jesus Christ of Latter-day Saints, the Lee Library at Brigham Young University, the Marriott Library at the University of Utah, the Library of the Utah State Historical Society, the Henry E. Huntington Library and Art Gallery, and the Beiecke and Sterling Libraries at Yale University in preparation for larger study from which this paper derives.