The Juanita Brooks Lecture Series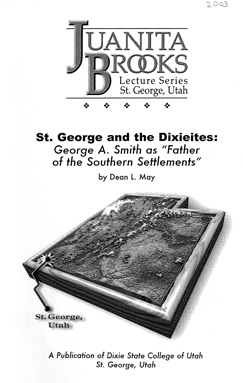 St. George and the Dixieites: George A. Smith as "Father of the Southern Settlements"
by Dean L. May
St. George Tabernacle
March 19, 2003
7:00 P.M.
Val Browning Library
Dixie State College
St. George, Utah
with support from the Obert C. Tanner Foundation
---
About Juanita Brooks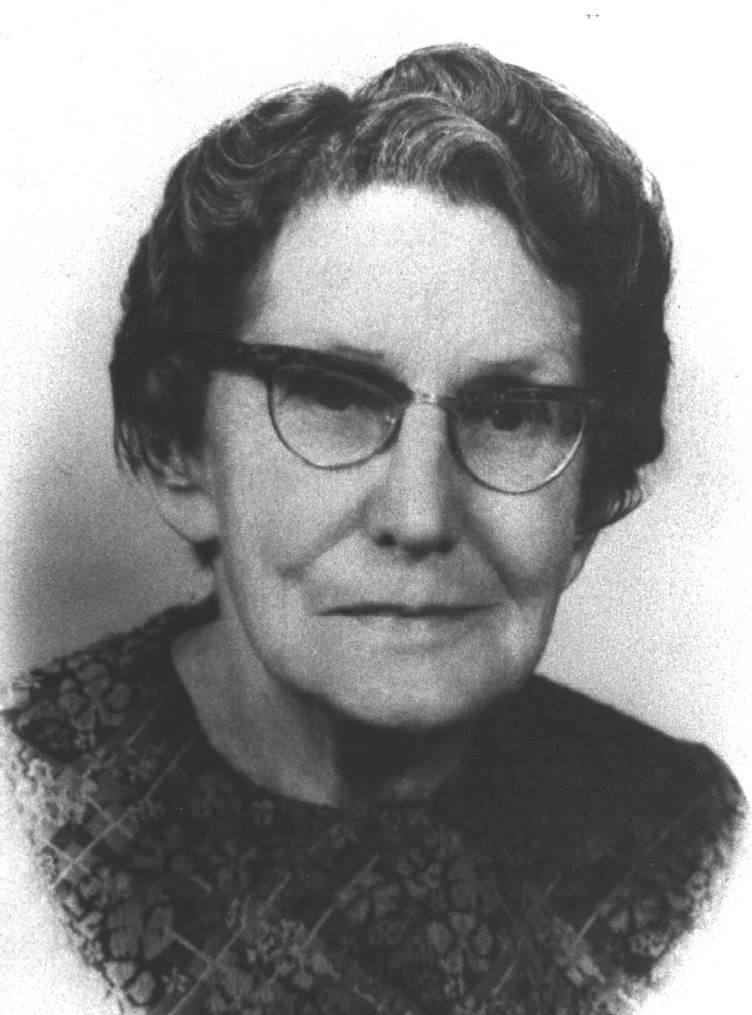 Juanita Brooks was a professor at [then] Dixie College for many years and became a well-known author.
She is recognized, by scholarly consent, to be one of Utah's and Mormondom's most eminent historians. Her total honesty, unwavering courage, and perceptive interpretation of fact set more stringent standards of scholarship for her fellow historians to emulate. Dr. Obert C. and Grace Tanner had been life-long friends of Mrs. Brooks and it was their wish to perpetuate her name through this lecture series. Dixie State College and the Brooks family express their thanks to the Tanner Family.
---
About the author
Dean L. May, Professor of History at the University of Utah in Salt Lake City, has taught as a Fulbright Guest Professor at the University of Bonn, Germany, and Ain Shams University in Cairo. He is a Fellow of the Utah State Historical Society, has served as chair of the Utah Board of State History, is past editor of the Journal of Mormon History, and is the immediate past president of the Mormon History Association. On several occasions, he has received awards for professional and teaching excellence.
His publications include Utah, A People's History and Three Frontiers: Family, Land, and Society in the American West.
---
St. George and the Dixieites: George A. Smith as "Father of the Southern Settlements"
by Dean L. May
A presentation of the Juanita Brooks Lecture Series1, Dixie State College of Utah—20th Annual Lecture, March 19, 2003.
In 1854 George A. Smith was appointed to replace Willard Richards as historian of the Latter-day Saints. He seemed mightily relieved to report to Franklin D. Richards that "The burden of presiding over the southern country in this territory was rolled off my back at Conference. And I can assure you that I felt something like John Bunyan's Christian is supposed to have done when he got rid of the burden of his sins."2 But of course, the tall, portly apostle rejoiced too soon. Sins are more easily shed than ties to southern Utah. He bore part of the burden of mentoring the Mormon settlements in the south until the end of his days. Indeed, the illness that led to his death is attributed to a cold contracted in Beaver on his way north from a visit to St. George during the winter of 1874-75. His 1854 calling simply multiplied burdens—adding church history to his ongoing role as overseer of southern settlement. The two tasks were not unrelated as we shall see.
George A. Smith (as he is known to distinguish him from his grandson, the church president George Albert Smith), was a first cousin and confidant of the founder of Mormonism, Joseph Smith. He was converted to the faith in 1832 at sixteen and was aide-de-camp to Smith on Zion's Camp, a quasi-military expedition that in 1834 trekked from northern Ohio to central Missouri intending to help reinstate Mormons on lands taken from them in Jackson County. He was just twenty-two when he was ordained an apostle on April 26, 1839, at the temple site in Far West, Missouri. The previous July, prior to their being driven from Missouri, Joseph Smith had received a revelation that the apostles should begin an overseas mission from that site on that day. They accordingly met there in the early morning hours at the peril of their lives, young George among them. In consequence, he was among the Twelve who that year made their remarkably fruitful missionary journey to England.
George A. and Bathsheba Bigler, married in 1841, accepted plural marriage early and fully, eventually taking five additional women into their household. The Smiths stayed in Winter Quarters that miserable winter of 1846-47. There, noting symptoms of scurvy among family members, George found that they improved upon eating potatoes. He then began to preach potatoes to the whole impoverished population, his advocacy of their curative powers labeling him ever after as the Potato Saint.3 He accompanied the 1847 pioneer company to the Salt Lake Valley, then returned to the Mormon settlements in Iowa where he assisted in the sustaining and ordaining of Brigham Young as president of the church. He brought his families to Utah in 1849 and shortly thereafter was charged with overseeing all Latter-day Saint colonies south of the Salt Lake Valley. As such he became known as "The Father of the South." His passionate sermons in 1856 and 1857 are thought by many to have helped set the scene for the Mountain Meadows Massacre. He was church historian from 1854 to 1870, and was First Counselor to Brigham Young from 1868 until his death in 1875.4
But there was more to him than piety and loyalty. He often was irreverent and funny. He was legendary for his girth (and his compassion for the horses that labored under him). He covered his early baldness with a variety of wigs; on Sundays a red one; weekdays black or brown. On occasion, in the heat of sermonizing, he would wipe his brow with his hair piece and then slide it back onto his head askew. His vision had been bad from youth, so he at times wore spectacles. He had false teeth, and southern Utah Indians, observing him at a morning washbasin, are reported to have called him "man-who-takes-himself-apart."
This was St. George, the colorful, contradictory man who in 1861 was honored in the naming of Brigham Young's southern capital. My first acquaintance with George A. was in the 1970s, when, almost exactly a century after he was released as church historian I was working for his successor, the church historian Leonard J. Arrington. While researching for Building the City of God, a study of Mormon communalism, I came across the personal journal Smith kept when heading up the first colonizing mission to southern Utah in 1850-51. Perhaps that mission caught my attention because my mother's parents were both born in Parowan of the 1870s and my mother remembered a brief period when her family lived there in the 1920s as one of the high points of her youth. Whatever the reason, I was fascinated by the insights into Mormon colonization his record of that pioneering enterprise left us. And, in addition, I was fascinated by the man, and wanted to know more of his character and life. I was diverted from that endeavor by an offer of employment at the University of Utah. Now, thirty years later, I am delighted that Obert C. and Parowan-born Grace Adams Tanner in endowing the Juanita Brooks lecture, have encouraged me to reopen the quest. Here, I focus on George A. Smith's roles as church historian and father of the southern settlements.
Brigham Young's attentions were fixed on the south almost upon alighting in the Great Basin. Mormon Battalion men traversed the route to southern California and back again in late 1847 and in 1848 seeking seeds, cuttings, cattle, and other supplies for the infant colony. Young and George A., in the meantime traveled with others back to the Iowa settlements, where Young, now as church president, appointed Smith to stay and help manage affairs there. Upon his return to the Salt Lake Valley in 1848, Young likely discussed with Jefferson Hunt and other Battalion men the terrain they had covered in going to and from southern California. By March, 1849 the church president was making plans to launch a formal exploration of the country southward "as far as the Gulf of California with a view to settlement and acquiring a seaport."5 This led to an official expedition called the Southern Exploring Company, under the leadership of Apostle Parley P. Pratt, that scouted promising settlement sites and resources south of the Salt Lake Valley during the winter of 1849-1850. Pratt's report to the Legislative Council of the provisional State of Deseret, dated February 5, 1850 described twenty-six places where colonies could be founded stretching all the way from Salt Lake City to the Virgin River. It enthusiastically noted large stands of cedar next to a mountain of iron ore, estimating optimistically that in the Cedar City area alone there were "resources capable of sustaining and employing 50,000 inhabitants at present and 100,000 eventually."6
Mormon leaders were quick to follow up. On July 27th, 1850, barely a month after its founding, the Deseret News carried an announcement, seeking volunteers to plant a colony in the Little Salt Lake Valley of southern Utah, "there to sow, build and fence; erect a saw and grist mill; establish an iron foundry as speedily as possible; and to do all other acts and things necessary for the preservation & safety of an infant settlement among the indians."7 Volunteers were to report to Willard Richards, General Church Recorder (the then church historian) or to Thomas Bullock, who worked in Richards' office.
Parley P. Pratt would seem to have been the likely choice to head the mission. His exploring party had identified the site of the proposed colony and the entire project was surely to a considerable degree shaped by his recommendations. He knew the terrain. He was senior to George A. in years and apostolic rank. It is not clear why he was not chosen. Perhaps Young saw the completion and management of the toll road in Parley's Canyon as Pratt's primary assignment. Built to serve California-bound gold-seekers it would bring hard currency into the cash-poor economy. And perhaps Young already had Pratt in mind to for a mission to the Pacific islands, to which he was called during the winter of 1850-51.8
In any case it is clear that by October Young had chosen George A. to head up the mission. He was a young man, in his 33rd year. He was married to six wives, and had fathered eleven children, only four surviving infancy. Four of his children died during the trials of the exodus from Nauvoo in 1846 and 1847. He had brought his wives and remaining four children to Utah the previous autumn, arriving late in October from Council Bluffs. Perhaps the church president's choice is a measure of how much importance he attached to the enterprise. He knew George A. intimately and there was a close bond between them. They had met soon after the Smith's moved to Kirtland, Ohio in 1833. They both took part in Zion's Camp. They had worked together on the Kirtland Temple, in opening the British Mission, in building up Nauvoo, in the pioneer journey to the Salt Lake Valley and in the formal designation of Young as Joseph Smith's successor. In all this George A. had never wavered in his faith or loyalty to the leadership of Joseph Smith or Brigham Young. He was described by Young years later as "God's footstool," a metaphor that suggests rock-solid reliability, perhaps even relaxed comfort, and willing subservience.9 Smith was a person Young could trust to give his utmost to the vitally important task of pioneering for the Iron mission, but more generally, of opening and overseeing settlements to the south.
When the Deseret News advertisement of July 27th failed to produce the desired number of volunteers Young gave Smith the task of identifying and calling men to take part. By November 16th Deseret News notices seemed to be using Smith's popularity as a draw, making a point of the fact that he was to be "president of the mission." The mission began formally on Sunday, December 15, 1850 in Utah Valley, where Smith for the first time addressed the entire company of some 167 persons. He asked for their sustaining vote as president, proscribed gambling and profanity, urged unity, and assured them that "we were as much on a mission as though we were sent to Preach the Gospel." He concluded that "We do not want a mean man to settle in Iron County," apparently leaving open the possibility of mean women there.10
Though I can not offer here an extended treatment of the mission, there were several incidents that are revealing of George A. Smith's character and conduct as leader. It is immediately obvious that he already felt responsible not only for the settlement mission itself, but for all Mormon settlements south of the Salt Lake Valley except for Sanpete. Moving through Utah Valley, where Mormons had been for two years, he visited with and gave counsel to the Saints and their leaders. Always interested in education, he visited a school in Provo which he found "was in good order, about 70 Schollars and 2 Teachers, …may the Lord bless that school."11 He counseled a brother against drinking. Then the party proceeded south to visit Aaron Johnson's Fort on Hobble Creek, the embryonic Springville, his Clerk, John D. Lee, noting "this is a handsome situation for a settlement." Further, past the Spanish Fork River, they identified another settlement site that would become Spanish Fork, then came to Fort Peteetneet, present-day Payson, "beautifully situated containing Six families among whom was an old and intimate friend James Pace. I found this a very pleasant place. I gave the Brethren all the encouraging instruction I could." The citizens of Utah Valley were apparently impressed. In May 1852 Utah Valley residents petitioned Brigham Young to appoint George A. Smith to preside over their settlements, which Young granted. Smith spent most of that summer visiting, organizing and encouraging Utah valley settlers. Though never a permanent resident, he built a home and settled his wife Hannah Maria there.12
The Iron Mission encountered no settlements after Fort Peteetneet. The company continued, in snow and bitter cold, with Smith noting resources and settlement sites the entire way to the Little Salt Lake Valley, the site of present Parowan. A controversy arose when they crossed Salt Creek, at present Nephi, over obedience to counsel. Smith had been asked by Young to have the party build bridges over larger streams for the church president to use when he came south the next June. However, "the majority of the camp thought it useless to stop & Bridge the stream as it would likely never be past fording." Smith, determined to follow Young's instructions, handled the situation by calling an evening meeting around a campfire, with songs and prayer. Then, "After meeting I requested the Brethren to bridge Salt Creek which they agreed to do."13
Four days later, the day after Christmas, they awoke to find that some cattle had been stolen, among them two of George A.'s favorite oxen. In his private journal he explained that a search party was sent out, which found the beasts mortally wounded with arrows, and brought them back along with an "old Brave and a boy about 12." Smith wrote:
The oxen they had wounded were favourites with our family and had been in our service ever since we left Nauvoo and had traveled the road from their to the Gt Salt Lake valley three times over. They were at present owned by my brother, who loaned them to me for the Trip. They moved his family across the Plains and mine ever faithful in all bad place, perfectly handy and gentle, and willing to draw. I had formed an attachment for them, that is hardly conceivable to exist between man and beast. And when Old Balley goaded with eleven wounds came up to my waggon tongue and lay down, groaning with pain and looking so wishfully to me for help myself and wife could not refrain from shedding tears. After dressing his wounds offering him feed and giveing him water which we had warmed, covered him with a Buffalo Robe. I felt that I could inflict almost any punishment on the head of his savage enemies, but when I come to see them two thirds naked (Thermometer below Zero,) half-starved and more than a third scared to death first thing I did was to give them some bread to eat, and place them under Guard until morning.14
By Sunday the 29th they were in the Pahvant Valley, site of present Fillmore, which they felt was extensive enough for large settlements if there were enough water. Smith was not feeling well, but in the evening they had services which he described.
Our Camp in this snowy Desert presents quite a lively appearance, a number of Camp fires made of dry ceadar surrounded by Companies, variously engaged, some listening to Violins, Accordians, Hymns, relateing anecdotes, Calling of Guard etc all serves to create a pleasant variety. The perfect good humour which prevails and good health in the Company, notwithstanding the severe cold and deep Snows which we have had to encounter whilst passing over high Mountains which would be no small obstacle even in summer, is really remarkable.
Lee wrote of the same meeting that Smith "expressed entire satisfaction with the course & conduct of the camp, better feelings he said he never saw in a camp under the same circumstances, the Spirit of God was with this mission." Smith observed that "he was the only one he believed that [had] need of a confession," as he had spoken harshly to some men abusing their teams and injured their feelings, and now "he asked their pardon but advised them to be kind to their teams."15
Smith again apologized on January 5, for offending some of the British-born by being too fervent in speaking of past American battle victories. He concluded, "I hope never again to excite that kind of National Feelings all governments on earth but one are corrupt & that is the government of God that is my National Interest." That same night a chorister was appointed and Smith joined the camp in singing around the campfire for two hours.16
Smith's scientific interests were evident when on January 10, the day they entered the Little Salt Lake Valley, he confided to his journal that "My legs are sore tonight the result of my attempt at a geological survey on which I made myself weary, examining large masses of trap sinite horn blend, scattered rudely as if by some dreadful convulsion of nature, huge masses of rocks, bearing evident signs of ignious action had been torn from their primitave beds and standing edgeways in verdical stratter."17
Once on the site of the future Parowan Smith appointed committees to take care of a plethora of public projects, some controversial. At Sunday services on January 19th the leader chided those who tried "to build up themselves independent of the common interest of this Mission," reminding them that "this mission was not designed to build up the individual alone but the cause of Zion.…I feel for the interest of this camp as much so as any other man can. I love every man in it, & my only object is to do for the general good & to fill the mission for which I was sent."18 Thus admonished they collectively chose the farmland and the town site, made a road up the canyon where timber was available, identified a mill site, surveyed for canals, scouted the surrounding area for minerals and other resources and formed a county government. On the last day of January, he…
called the camp together this morning and told them that their was no call for public work today and that every man was at liberty to do what he pleased upon which their was a regular Stampede for the Kanyon, every man takeing his ax and leaving his gun.…Every accessible tree that would make a house log within 4 miles stood a slim chance today.19
The group proceeded to plow, plant, and build. On February 20, Smith had a brush shelter built outside his wagon box to serve as a classroom. The next day he wrote, "I commenced a grammer school in my Wickyup, my schollars were Thos Wheeler Josh Millet, Peter A Smith R. Benson Benj. Hults and Wm Mitchell by the light of the Camp fire, with only one Grammer book."20
The group had decided that houses were to be lined up to form a fort-like enclosure. However the two Johnson brothers, Sixtus and Nephi, ancestors of my equally independent-minded wife, Cheryll, had built their house off the line. On March 16th, a self-appointed crew began to rectify the structure when the Johnson brothers stormed out with guns in hand, threatening to shoot the first person to touch their logs. Smith, resting in his wagon, heard the threats of shooting, ran out half dressed, grabbed one of the boys by the collar, reprimanded him severely, and threw him to the ground, "telling him and the others at the same time never to be heard threatening to shoot again." John D. Lee concluded "This circumstance though unpleasant taught the company to understand that caution & reflection were the parrents of safety & some times a smawl matter kindleth a great fire. A few nights after the same house was put on the line by request of the Pres."21 Two days after the incident Smith confided in a letter to his wife, Bathsheba, "I am like a father of a Big family here for all Call on me for advice and I give it. I am sometimes fractious and get irritated and then I repent."22 On June 27th Smith learned that his wife Sarah Ann, mother of his son, John Henry, had died of consumption two weeks earlier.
By July 4th the founding had been accomplished. There was a settlement in place, surrounded by fields of ripening wheat. Smith noted with no apparent awareness of their remarkable accomplishment, that there had been no rowdiness in celebrating the national holiday. "All was silent, not a gun fired, or a drunken man seen in the Streets."23 He remained to supervise the selection and survey of a site on Coal Creek for the Iron settlement which became Cedar City. In November of 1851, however, having provided a home there for his wife Zilpha, pregnant with her third child (the previous two had died in infancy), he left the settlement, and though making frequent visits, was not thereafter a permanent resident of this or any other southern town.
George A. Smith led the Iron County Mission in person, establishing Parowan as the mother colony for the south and the prototype for subsequent colonization in the Great Basin. The records of the enterprise reveal much about the man. Clearly he felt responsible for the eventual settlement of the entire southern corridor. He was devoted to seeing that the missionaries carried out Brigham Young's instructions to the letter. Never did he miss an opportunity to emphasize that this was to be a communal and not an individualistic enterprise. When there was dissension or dissatisfaction he sought to quell it, sometimes sharply, but ultimately with songs, sermons, and even self-deprecating apology. He was quick to see the humor in a situation. Schooling for children was an important priority. And he was compassionate to the native people, even when he felt they had wronged him. His occasional outbursts notwithstanding, he was much admired and loved by the men and women of the mission. On November 5th, 1851 they showed their regard by making a gift to him of some $1,000 he owed them for their labor in building the sawmill at Parowan.24
Historians take pride in telling the story of the past honestly, warts and all. Indeed, distortions of the historical record, whether to praise or condemn, vitiate what we might learn from history. And, I confess, I am a little embarrassed, in reviewing Smith's role as a colonizer in this mission, not to have found more warts. Perhaps this helps us understand better why Brigham Young valued him so much and made him henceforth steward of all the colonies southward. Given the cultural imperatives that were fundamental to the Mormon world of that time, a rather important qualification, as we shall see, he truly was a Saint.
His sanctification was not to be formalized, however, for another decade. Despite numerous church and civic duties in Salt Lake Smith remained intensely interested in the south. The next April he was there again as part of a reconnaissance party headed by Brigham Young, helping to complete plans for the territorial capital in Fillmore. He was a favorite speaker for Fourth of July celebrations. In the Old Tabernacle on July 4th in 1852 he called himself a "humble private" in the Nauvoo Legion, devoted to protecting and defending the Constitution, the principles of which had been severely violated in recent attacks on Catholics in Philadelphia, the news of which "fills the Nauvoo Legion with burning indignation." He spoke of how lean he had become, a mere 230 lbs., and lamented that "there is now scarcely a hair left on my head between me and heaven."25
Smith continued to be involved in nearly all aspects of southern colonization. On December 8, 1852 he reported to the Deseret News the building of Fort Harmony on Ash Creek by John D. Lee, taking pride in fact that "one of the first rooms erected is intended for a school house."26 Asked how to deal with children caught stealing fruit in Parowan, he "advised the town leaders to plant two thousand public fruit trees on the town square so their children and the poor could obtain fruit without stealing."27 In 1853, he and Erastus Snow were asked to call fifty families "to strengthen the settlements in Iron County in view of commencing to make locations in Washington County."28
The Washington County initiative was delayed by the Walker War of 1853-54, during which the "humble private" was appointed a Colonel in the territorial militia, or Nauvoo Legion, south of Salt Lake County. During this period his new rank, together with his association with and continuous promotion of Iron County earned him the sobriquet of the "Iron Colonel." He advocated a defensive strategy and blamed the war not on the Indians, but on the settlers for failing to obey Brigham Young's counsel to settle in compact villages protected by a fort. He maintained that "No man ever heard me undertake to advocate the business of killing Indians unless it was in self defense;…and in no orders that I have issued…have I ever given licence of this kind, but to act in defense of ourselves and property."29
In March 1854, shortly before the formal end of the Walker War, Willard Richards, who had served both as second counselor to Brigham Young and church historian and recorder, died. Young chose Jedediah M. Grant to be his new counselor, but asked Smith to be church historian. At the time this was no minor task. The church historian was also the church archivist, assembling records and documentation not only for the past but for present church activities. The assignment did not, as Smith hoped, clear him of his southern Utah stewardship; in fact it greatly amplified it. He became responsible for monitoring the progress of, and collecting data from all the settlements, and with Brigham Young as church president and governor, both for the church and for the territory. Perhaps, most importantly, he took very seriously his task of teaching the youth and the growing tide of incoming converts from Europe the sacred story of Mormonism's founding. Thus the church historian of Smith's time was not a cloistered reader of dusty tomes, but central and critical to the mission of building the Mormon Kingdom of God.
Smith was the perfect choice for the assignment. An avid reader, he was proud of the breadth of his knowledge. He often gave sermons that contained sweeping overviews of classical Rome, the rise of Christianity, the Reformation, the founding of the Republic, and other world events. These sermons were given extemporaneously, as was the Mormon custom, and were peppered with names, dates, and details that attest eloquently to his remarkable memory. And, of course, they always were framed so as to provide a moral message or to relate somehow to the rise of the faith. Speaking in the Bowery in Salt Lake City in September 1855 he devoted a long sermon to Islam, concluding of Mohammed that "he preached the moral doctrines which the Savior taught," was descended from Abraham and "was no doubt raised up by God on purpose to scourge the world for their idolatry." Islam, he said, had a "word of wisdom" and their story shows the power of union. He concluded by recommending several specific books to the congregation, urging the youth especially to study "oriental history" because, "many useful lessons are taught on the pages of history."30
His forte however, was the history of the Latter-day Saints. Nearly every one of his sixty-one sermons for which we have the complete text brought up some aspect of the Latter-day Saint past. Here, his remarkable command of names and dates was amplified by his nearly always being able to give a vivid first-person account. He had been converted as a youth just two years after the church was founded. He was Joseph Smith's first cousin and an intimate of Brigham Young. He had witnessed and participated in all the crucial events of the early church since his conversion except for the march of the Mormon Battalion. For the burgeoning body of youth who did not remember those events, and for the thousands who had recently embraced the faith, he was the living branch into which their new self-understanding was grafted. The faith stories of New York, Ohio, Missouri, and Illinois became as important as those of their personal lives in Lancashire, Copenhagen, and Gothenburg. Smith, as church historian, helped tie them to their new history and thus their new identity.
What was the content of these sermons? Converts who never knew the founding prophet must surely have warmed as the apostle told them of when Joseph "wrapped his arms around me, and squeezed me to his bosom and said, 'George A., I love you as I do my own life.' I felt so affected, I could hardly speak, but replied, 'I hope, Brother Joseph, that my whole life and actions will ever prove my feelings, and the depth of my affection towards you.'"31 Smith spoke of seeking advice from "Brother Joseph" before setting out on his first mission at age 17. "George A.," the Prophet told him, "preach short sermons, make short prayers, deliver your sermons with a prayerful heart, and you will be blessed and the truth will prosper in your hands." Joseph Smith Sr., counseled him "to go in at the little end of the horn, then if you increase, though it be but a very little, you are sure to come out at the big end; but if you go in at the big end, you are certain to come out at the small end."
He related a story of Sidney Rigdon "our great preacher, a man that could bring to bear all the big, jaw-cracking words of the English language." Rigdon was preaching in Kirtland before Professor Seixas and other learned gentlemen wanting "to show himself to the best possible advantage. I discovered his error when he first began speaking; I saw that he was in his high heeled boots, and at the commencement he soared so far above his subject that he could not get down to it." Smith's conclusion from the story was "when a man uses ten or fifteen superfluous words to convey one simple idea, his real meaning is lost.…It is like Massa Gratian's wit—two grains of wheat hid in three barrels of chaff."32
In the same sermon he gave an extended account of the thirteen strapping, red-headed sons of a Mr. Willey who took it upon themselves to protect him from a threatened tarring and feathering by a Mr. West, a Methodist minister, when he was on a mission in Tyler County, Virginia. He told of "when Joseph first got the Abrahamic records," and how a once intimate friend of his father's, a Presbyterian Deacon, refused to look at them for fear he might be deceived.33
At General Conference in April 1856, shortly before leaving for Washington, D. C. with a constitution and petition for statehood, he reinforced a sermon on the importance of building and maintaining fences to contain livestock by recounting in great detail a confrontation between the wives of Thomas B. Marsh and Mrs. Harris over the strippings from a cow they had agreed to share the milk from. When church courts found against Mrs. Marsh, the then president of the Twelve Apostles declared he would "sustain the character of his wife, even if he had to go to hell for it." In his anger he swore before a magistrate that the Mormons "were hostile to the state of Missouri," leading to "an exterminating order, which drove some 15,000 Saints from their homes and habitations and some thousands perished through suffering the exposure consequent on this state of affairs." Though there was considerable hyperbole in the numbers he used, Smith concluded, reasonably enough, that little things, like the failure to build fences, can have catastrophic results.34
Many other sermons related historical events more directly. Yet, as is evident here, he skillfully used the early history of the church to teach object lessons relevant to present circumstances. He did so in a manner calculated to evoke an emotional response that acquainted Saints with their history while reinforcing group identity and distrust of those outside the faith. His sermons recounting persecutions and the failure of the United States government to protect the Saints were especially strong during the Utah War of 1857-58, the Civil War of the 1860s, and the beginnings of the anti-polygamy campaign in the 1870s.
He spoke in the Bowery on Temple Square on a sweltering August Sunday afternoon in 1857, shortly after it became clear that a significant contingent of the United States Army was on the way to Utah. Interestingly, in that time of crisis he began by recounting the history of his own family and their conversion, going back to Asael, the common grandfather of himself and Joseph Smith. He told how after his baptism, when his classmates started making fun of him because of his new faith "I pulled off my coat and flogged the whole school, and from that day I was respected." He continued recounting his personal experiences, emphasizing persecutions against the Mormons, such as occasions where "High Priests were arrested and put in prison, numbers of them were murdered, women were ravished, goods and property stolen, houses burnt, and every possible cruelty was invented to cure men of their religion."
While on his recent trip to Washington Smith had "told Mr. [Senator Justin] Morrill of Vermont,…that it was utterly impossible by law to change men's opinions. If a man believes a thing, you may whip him, and he will believe it still." He reinforced the point by telling of a lady "down in the country, where men have but one wife," who angered her no-account husband by calling him lousy, or in the language of the time, "cracklouse." Determined to force her to recant he repeatedly pushed her under the waters of a nearby river and each time she came up for air she shouted "cracklouse." Finally, in his anger he held her under too long and she drowned. But "she came with her finger nails clenched,…in the position required for cracking a louse." He related to the congregation inflammatory rumors that the government "plan is deep, and it is laid with the intention of murdering every man that will stand up for 'Mormonism,'" and concluded with a testimony of his faith.
Brethren and sisters, I am a Latter-day Saint, and I know that this is the people of God; I know that this people have the Priesthood, and that Brigham Young is as much an inspired man as was Moses or any other man that ever lived upon the earth.

This is my testimony, and I believe that if I were cut in pieces…it would [not] alter my testimony.35
Apparently, the church historian felt there could be no better way to prepare the Saints for the crisis ahead than to ground them once again in the story of the origins of their faith. And in the course of doing so, he reminded them of what the early Mormons had endured, the futility of the government's trying to change their beliefs by force, and the necessity at times to fight to defend against persecutors. And even with tensions taut as bowstrings he inserted a bit of humor here and there.
By November, 1857 he was somewhat more conciliatory, but still spoke of federal officials as "corrupt demagogues," and couldn't help punning that "The idea of forcing these corrupt dogs on a community rule it is what I call dog-matism." Yet his Jeremiad was more against the Saints than the army, chiding them for materialism and selfishness and concluding that "If we, as a people were of one heart and mind, and would place ourselves in the right position before the Lord,…that we never would have any serious annoyance from our enemies."36
Smith's recorded sermons of the period were given mostly in Salt Lake City. They are unquestionably polarizing, reminding the people again and again of the persecutions the faith's founders had endured, the hostility of the outside world and its clergy, and of the Saints' innocence and moral and religious rectitude. These recorded sermons represent only a fraction of his entire discourse to the Mormon people. He often began his Salt Lake sermons by explaining that he spoke rarely there, as so large a congregation required more strength of lungs than he was able to muster, but he had spoken to dozens of congregations in the settlements.
He took such a speaking tour to the south during the most intense days of the crisis, a time when "the Spirit seemed to burn in my bones to visit all these settlements in that southern region." Upon reaching Parowan, he found the Iron County militia mobilized and the people ready "to…defend themselves to the very last extremity." He clearly was dismayed at the depth of passions, and "I got into the carriage and went on a mission of peace to preach to the people." Nonetheless, "in spite of all I could do, I found myself preaching a military discourse." Yet he recommended flight more than fight. "I told them, in case of invasion, it might be necessary to set fire to our property, and to hide in the mountains, and leave our enemies to do the best they could." His journey took him to all the settlements, to Fort Harmony, to Washington City, Santa Clara, then north past Mountain Meadows, and back to Cedar, Parowan, Paragonah, and Beaver. His "military discourse" was obviously aimed towards preparing the people for a feared attack by troops of the United States army. That danger loomed so large as to make any emigrating company that might be traveling through of little note or interest. He continued:
There was only one thing that I dreaded, and that was a spirit in the breasts of some to wish that their enemies might come and give them a chance to fight and take vengeance for the cruelties that had been inflicted upon us in the States.…Now, I never felt so;…for I would a great deal rather the Lord would fight the battles than me; and I feel to pray that he will punish them with that hell which is to want to and can't; and it is my prayer and wish all the time that this may be their doom.…I know, if we are humble and united, and moved upon by the right Spirit, God will fight our battles.37
Smith's sermon was given on September 13, two days after the thing he dreaded most, as yet unbeknownst to him, had happened at Mountain Meadows.
But my point here is that Smith's role in teaching the incoming Mormon converts of their peoples' past, his role as church historian, was by no means trivial. In 1860, four years after Smith became church historian, 55 percent of the whole adult population of Utah was British-born and another 13 percent Scandinavian. Altogether 74 percent of those above the age of 15 were foreign born. By 1870, the year Smith was released from his official historian duties, some 67,000 had traveled overland to the Mormon Zion, most of them converts to the church from Europe.38 They came with hearts and minds open and receptive to the teachings of church leaders. Through his role as church historian, George A. Smith taught them the sacred story; of visions, gold plates, persecutions, martyrdom, flight, and final refuge in the West.
All these elements were consistently part of his story, but the crucial years of 1857-58 elevated the persecution theme and gave it immediacy for the 40,000 who had come to Utah during the previous decade. While many church leaders dwelt on similar themes, there is but one who may have done as much as Smith to help implant indelibly the idea of unjust persecution in Mormon folk memory and consciousness. That was C.C.A. Christensen, who, later in the century, painted the famous Mormon Panorama, some 23 large canvases that depicted important scenes in church history. They were the cinema of their time. Christensen took them from town to town, rolled on giant spindles, his assistant revealing each canvas to the admiring eyes of the audience as he read the story of the Mormon past. Christensen had come to Utah as a handcart pioneer, and thus was there during the crucial 1857-58 years, very possibly learning his history from sermons of George A. And canvas after canvas presented memorable scenes of the persecutions the predecessors in the faith of Christensen and his audiences had experienced.
I was recently asked by a reporter for the Salt Lake Tribune, doing a story on the Main Street Plaza controversy, if the Mormons do not have a persecution complex. I replied that if the notion implies that Mormons imagine others to be their enemies, that their sense of persecution is all in their heads, they do not. They have been, and indeed continue to be, persecuted. It reminded me of the old story of the psychiatrist who gave to a patient the good news that he did not have an inferiority complex; the bad news was that he was inferior. The Mormons do not have a persecution complex; they have been persecuted, and to an extent far exceeding that of any other religious group in the United States.
The Utah War occurred just as southern settlement below the rim of the Great Basin was in its infancy. In his sermon of September 13, 1857 Smith spoke promisingly of efforts to grow cotton, madder, and indigo along the Virgin River. The war, in fact, had stimulated the settlement of Dixie, the recall of the San Bernardino Saints bringing back to Utah many who were accustomed to warmer climates and happy to settle along the Virgin. George A. had a continuing interest in Washington County settlement, and soon he began to make the settlement of St. George part of his sacred history of the Mormons.
Smith's role in the early settlement of Dixie is well-known in southern Utah.39 As I noted above, he and Erastus Snow were looking to open settlements over the rim of the Great Basin as early as 1853 when some fifteen families already were located at John D. Lee's Fort Harmony. By 1857 there was a string of infant settlements up and down the Virgin and up the Santa Clara River which he visited that August. In 1857 he named a settlement up the Santa Clara "Gunlock," after William Hamblin, who was known as "Gunlock Will" because of his hunting prowess. Smith was chosen that year to represent Washington County as "councilor" (senator) to the territorial legislature. He oversaw the 1858 mission to raise cotton at Tonaquint under Joseph Horne. Horne, like John D. Lee, had been with Smith when settling Parowan. Horne and his crew produced 575 lbs. of cotton and 160 gallons of molasses that season.
Smith continued to be deeply involved in colonizing below the rim of the Great Basin. He and Amasa Lyman were in Toquerville on the 10th of August 1858, confirming the appointment of Joshua T. Willis to preside in the settlement. James G. Bleak recorded, "There had been a destructive hail-storm this summer; but the Apostles…encouraged the pioneer settlers and promised them that the settlement would become very fruitful, and they should be prospered."40 Smith and Lyman chose and ordained church leaders in Toquerville, Washington, and Santa Clara. In July 1859 they "attended the celebration of Pioneer Day at Washington, and in the after part of the day visited and rejoiced with the people at Santa Clara."41 Perhaps the most searing of the many personal tragedies in Smith's life took place in November, 1860, when his son and namesake, George Albert Smith, Jr., just eighteen, was killed in the south, across the Arizona border, by Navajo while en route with Jacob Hamblin to a mission among the Hopi people.
With the election of Lincoln, and the likelihood of a civil war, the need for Utah to produce its own cotton became more pressing. Brigham Young visited all the Washington County settlements in May of 1861, finding but 79 families in the whole region, many suffering from "chills and fever"(malaria), but struggling gamely to tame the water and the soil. With the war now begun in the East and certainty that cotton prices would soar, the church president concluded it was time for a major initiative in the south. At October conference he called some 338 families, including a number recently arrived from Switzerland, to provide a new infusion of manpower and energy to southern colonization. Smith, who had helped the president identify those chosen for the assignment, spoke to them in the Bowery on October 20th. He assured the prospective missionaries that:
The word of the Presidency is brethren, it is necessary to strengthen the southern border of our thriving Territory and this is for the general good of all.

Now you go down south and raise cotton and you will be blessed more than you ever have been heretofore, and know that in doing this you are doing your part to build up Zion.…

It has been my lot to take part in the starting of settlements in the southern portion of this Territory; I have assisted in settling the country from the cotton district in Washington county to Utah mountain.…

Now, I do not want a solitary man to go down there to perform this service that can not go with his whole heart.…[This mission] is to build a city; it calls for wives, children, for machinery, for mechanics, for every thing that is calculated to add to the comfort and happiness of a city.…We should manifest our joy that we have had the high privilege of helping to enlarge the borders of Zion.42
Smith was with Young when they were drawing up a petition asking for a post office for the city-to-be. When he suggested that the president name the town, Young said "he would name it if [Smith] would be satisfied." A no doubt puzzled George A. said he would be and "the president then named it. 'St. George.'"43
Many have wondered why a Mormon town would be named for a saint, indeed for the patron saint of Great Britain and slayer of dragons. The answer is, of course, that Mormonism in its quixotic and literalistic way, was not content to reserve sainthood just for those few whose lives were of transcendent virtue and through whose name others have received divine assistance. Audacious as it sounds to traditional Christians and Muslims, all Mormons are, or aspire to be saints, the very name of the church underscoring the point. Still, of the four hundred ninety-seven settlements made by Mormons between 1847 and 1902, only nine were named for a saint in the St. George manner, and St. George was the first of these. They include St. Charles, Idaho, settled three years later, in 1864; the short-lived St. Thomas and St. Joseph, Nevada, both named in 1865; St. John, Idaho in 1867; St. John in Utah in 1873, St. Joseph, Arizona in 1876; and St. Johns, Arizona in 1880.
Of all these the only namesakes we know for certain were Joseph Smith, for whom St. Joseph Arizona was named; George A. Smith; David Patten Kimball, who earned his sainthood by heroically helping to rescue handcart pioneers in 1856; Charles C. Rich, for whom St. Charles, Idaho was named; and Bishop John Rowberry, after whom St. John, in Tooele, County, Utah was named. Of course, the two Smiths, Charles C. Rich and even David Kimball, were heroic figures to whom most Mormons would concede special status. Bishop Rowberry would seem the only rank and file saint for whom a town was named, though perhaps there is a story there yet to be told. The Mormon practice of naming towns in this way lasted only nineteen years between the founding of St. George and St. Joseph, Arizona.44 Alas, we will never know whether there was a look of reverence or of playful impishness on Brigham Young's face when he named St. George. He was capable of both.
After the founding of St. George we see a new theme added to George A. Smith's telling of the Mormon story. He increasingly referred to Utah as a desert place, a place no one but Mormons would want. In October 1865 he reported on a recent visit south, describing in detail the problems of sandy soil, difficulty of maintaining dams, the lack of "mechanics," the challenges of growing wheat, grapes, and fruit trees there, but concluded "the place is looking like the Garden of Eden, showing that perseverance, faith and energy will conquer everything." The faithful Saints "are bound to conquer that desert, and not only make it blossom as the rose, but make [it] one of the most delightful regions of the earth."45
In April General Conference of 1867 he assured the congregation that:
We are, as it were, in a new world, a desert, a country that is only made fertile by actual labor, and its fertility is only retained by the main strength of its inhabitants. Cease to irrigate our fields, repair our dams, clean out our ditches, and our country becomes a desert again in a quarter of the time that it has taken us to make it. In some respects it is peculiarly fitted to us, for…we are compelled to cultivate a spirit of union and oneness, or the result is we go hungry, and that same spirit of oneness is actually necessary to enable us to fulfil our mission here and for our exaltation hereafter.46
That October he expressed his gratitude at how unenviable "these mountain deserts" are for no one will covet them. "When we lived on the rich fat lands of the Mississippi and Missouri valleys, our fields and improvements were coveted." But in Utah the mountains and deserts, "shelter us from our enemies." The Saints, he said, are like the fox in the brambles. "Though the thorns tore his skin a little they kept off the dogs."47 The addendum that henceforth was added to his ritual telling of the history of the Saints was their heroism in making the desert blossom. In fact most Mormon settlements were made in reasonably well-watered valleys.48 But George A. eloquently and persuasively generalized the Dixie experience to the entire region, a theme that has endured in the Mormon self-understanding.
George A. Smith was never, of course, a year-round resident of St. George. Dixieites did not see him digging potatoes, hauling wood, or building and rebuilding recalcitrant dams and ditches. Perhaps that fact alone explains why Apostle Erastus Snow became much more legendary in Washington County. George A. visited often and played a leading role in many important events. And as settlement progressed southern Utah became increasingly a part of his historical narrative. We see in his post-1861 sermons much praise of St. George settlers and descriptions of their tenacity and faith as evidence of a superior kind of sainthood developing in the south. Smith spoke at the first public meeting held in the St. George Tabernacle on the 20th of March, 1869, when only the basement was ready for use. He "declared he was proud of being associated with the people before him. He said, he felt they might be justly considered a select portion of Israel." The next day he "blest the people and expressed his thanks for the kindness manifested to him and his brethern. He blest the land and invoked the favor of the Lord in sending us timely rains that it might yet be said of this country, as anciently in Egypt, 'There is corn in Dixie.'"49
After 1868, when he became second counselor in the First Presidency, his frequent participation in St. George events seems as much a function of his office in the presidency as of his special calling as apostle to the south. Brigham Young began winter retreats to St. George in 1870. During these visits the President tried to protect his voice and strength by avoiding meetings and occasions when he would be asked to speak. George A. nearly always accompanied him on these visits and was his spokesman. It was perhaps for that reason that Young, though present, asked his counselor to offer the prayer for the groundbreaking of the St. George Temple. On that solemn occasion he prayed that God would:
Overrule the discovery of minerals in this land for the good of thy people; control the President of the United States, and those in authority, who purpose evil against thy people; put hooks in the jaws of the enemies of Zion and turn them from their wicked purposes. May thy peace be upon the pioneers of this desert, and upon all those who have labored to reclaim the same.…

We thank thee, O God, for these barren hills, and for the shelter of these rugged rocks and deserts as peaceful dwelling places for thy Saints.…Grant that the walls of that Temple will be laid in truth, and the topstone laid with shouts of hosannah to God and the Lamb. Cause that thy power may be in the house; that angels may enter therein and minister to thy servants."50
Smith spoke on Saturday, February 14, 1874, at the first public meeting held in the fully completed St. George Tabernacle. It was a gathering of priesthood leaders from all the settlements for the purpose of announcing the beginning of the United Order movement. George A. assured the brethren that "so far, the settlements of this Southern country had been a success. It was desirable that still better results should be secured; and this might be done by entering into a United Order in the concentration of our labor and means." He warned that "none could go to build up the central stake of Zion at that place [in Jackson County, Missouri] unless they belonged to a United Order in temporal things, according to the Gospel plan … [and] concluded by referring to the great benefits socially, morally, and educationally, resulting from combination in a United Order."51
The United Order, home industries, and completion of the temples in Salt Lake and St. George were Smith's preoccupations during 1874. He returned to St. George in the fall, deeply concerned about the ailing Brigham Young. The church president was in his mid-70s, and felt increasingly the strain of the many demands upon him. It was no doubt for this reason that George A. presided over the Christmas celebration on Friday December 25th in the basement of the St. George Tabernacle. It was a curious kind of Christmas gathering. It began, not with a Christmas song, but with the Parley P. Pratt hymn "The Morning Breaks, the Shadows Flee." After another hymn "The Towers of Zion soon will Rise," Smith read to the gathered Saints scriptures from Sections 105 and 106 of the Doctrine and Covenants. He then preached on temple work, telling of his experience at the dedication of the Kirtland Temple. He explained how later Joseph and Hyrum Smith had entrusted Brigham Young with sacred temple ordinances and then asked him to share them with the Twelve. Joseph Smith had told George A. that "We must act in perfect compliance to what is revealed to us. We need not expect to do this vast work for the dead in a short time; I expect it will take at least a thousand years." He then urged the company to give their all to completion of the temple "so that President Young and the Twelve may have the opportunity of going therein to communicate the Keys of Knowledge and power which the Prophet Joseph had conferred upon them, and which can only be conferred on others in the temple." The Christmas gathering ended with another hymn and a benediction by Erastus Snow.52
Smith and Young visited the temple works to watch the progress nearly every day that winter. They left on February 10 for Salt Lake City, seemingly in good health. Smith developed a bad cough on the trip north. He was too ill to speak in April Conference. In the early summer he seemed to rally, but it was clear by late July that his condition was worsening. Two months later James G. Bleak, who in 1861 had been chosen and set apart by George A. Smith to be the historian of the southern mission recorded that:
On Wednesday, Sept. 1st St. George and Southern Utah Settlement received telegraphic words that our beloved George Albert Smith departed this life at 8:40, this morning at Salt Lake City.

For twenty five years he took special interest in the settlement and development of Southern Utah. In October 1861, in the time of calling three hundred families to leave their homes in the North and strengthen and increase the settlements South of the Rim of the Basin, our beloved President Brigham Young said that a City was to be built north of the junction of the Rio Virgin and Santa Clara and that, out of respect to George A. Smith, the Pioneer of the South, the new city should be named St. George.53
To his missionary son Brigham Young wrote that "the death of Pres. Geo. A. Smith has cast a gloom over the entire community.…Heartfelt, indeed, have been the prayers that he might be restored to health, and earnest have been the hopes for a continuance of his long and devoted sojourn upon the earth; but it has pleased the Lord to take him from us."54
It was a numbing loss. Yet Smith's legacy endures. As with its namesake, the girth of present St. George seems uncontainable, extending across the deserts and up over rimrocks in ways that might startle, perhaps dismay, the man who loved this country so much. There is perpetuated among Saints around the world, among millions who may never visit Dixie in their lives, a powerful folk memory of the Mormon past—of trials and persecutions, of mobs and flights, of wresting life and new beginnings from desert places, and of divine redemption—all, perhaps far more than we have understood, a legacy of St. George.
---
Endnotes
This essay was written for the Juanita Brooks Lecture given at Dixie College March 19, 2003. I would like to thank Obert C. and Grace Adams Tanner for the endowment making this lecture series possible, Douglas D. Alder, for inviting me to join the list of distinguished Juanita Brooks lecturers, and Douglas D. and Elaine Alder for their helpful suggestions and careful proofing of the text. And finally, I pay homage to Juanita Brooks, a person and scholar of character, commitment, and courage. She was an inspiration to us all.
George A. Smith to Franklin D. Richards, Letter printed in Latter-day Saints' Millennial Star, Sept 16, 1854.
Charles Kent Dunford, "The Contributions of George A. Smith to the Establishment of the Mormon Society in the Territory of Utah," Ph.D. Diss., Brigham Young University,1970), p. 58.
Though there are many original sources relating the life of George A. Smith, including diaries he kept, and memoirs published by himself and his wife Bathsheba in church periodicals, the secondary literature is surprisingly sparse. It includes principally, Merlo J. Pusey's Builders of the Kingdom (Provo, Utah: Brigham Young University Press, 1981), a biographical overview of the life of George A. Smith, his son John Henry Smith, and John Henry's son, the church president George Albert Smith. There is in addition Ray Haun Gleave, "An Effect of the Speaking of George A. Smith on the People of the Iron Mission of Southern Utah," MA thesis, Brigham Young University, 1957; Reid L. Merrell, "Utah Colonization Period Supervised by George A. Smith," MA Thesis, Brigham Young University, 1966); and the Charles Kent Dunford dissertation previously cited.
Brigham Young to Orson Pratt, March 9, 1849 in Journal History, Church Archives, Church of Jesus Christ of Latter-day Saints. The Journal History is essentially a day-by-day scrapbook of a variety of documents from many sources compiled over decades by clerks in what was then called the historian's office of the church.
In William B. Smart and Donna T. Smart, Editors, Over the Rim: The Parley P. Pratt Exploring Expedition to Southern Utah, 1849-1850 (Logan, Utah: Utah State University Press, 1999), p. 179.
Deseret News, July 27, 1850.
Parley P. Pratt, Jr. ed., Autobiography of Parley P. Pratt, 6th Edition (Salt Lake City: Deseret Book Company, 1964), p. 370.
Brigham Young to Alfales Young, September 2, 1875 in Dean C. Jessee, ed., Letters of Brigham Young to His Sons (Salt Lake City: Deseret Book Company, 1974), p. 219-20.
The official record (Camp Journal) was kept by John D. Lee and published as Gustive O. Larsen, ed. Utah Historical Quarterly 20 (1952), pp. 109-34; 253-82; 353-83. The quote is from pp. 116-17, the count from p. 122. Smith's private journal, kept for him by Henry Lunt, is in the LDS Church Archives, and is presently being prepared for publication by Michael Cotter and Dean May. It will here be referred to as the George A. Smith Mission Journal (GAS Journal), the "mean man" quote above being from the entry of December 15, 1850. In quoting from the two journals I left spelling and grammar as in the original. The mission is described in detail in Morris and Kathryn Shirts' A Trial Furnace: Southern Utah's Iron Mission (Provo, Utah: Brigham Young University Press, 2001).
GAS Journal, December 16-18, 1850.
Journal History, May 19, 1852. Pusey, pp. 86, 127.
Camp Journal, pp. 124-25; GAS Journal, December 22, 1850.
GAS Journal, December 26, 1850.
GAS Journal, December 29, 1850. Camp Journal, pp. 131-32.
Camp Journal, p. 260.
GAS Journal, January 10, 1851.
Camp Journal, pp. 353-55.
GAS Journal, January 31, 1851.
GAS Journal, February 20-21, 1851.
Camp Journal, pp. 379-80.
GAS to Bathsheba Smith, March 18, 1851, George A. Smith Papers, LDS Church Historical Department.
GAS Journal, July 4, 1851.
GAS Journal, November 5, 1851.
Journal of Discourses, 26 vols. (Liverpool: Latter-day Saints' Book Depot, 1855-1886), I: 79-81.
Deseret News, December 8, 1852.
Dunford, p. 102.
James G. Bleak, Annals of the Southern Utah Mission, Book A, [1898], Typescript LDS Church Archives. James G. Bleak was clerk and historian of the Southern Utah Mission, called to settle the town of St. George in 1861, and carefully kept records of the enterprise which were later incorporated into his "Annals," the importance of which as the core source of the nineteenth century history of the region can not be overstated.
Journal of Discourses, I: 191-97, esp. 196.
Journal of Discourses, III: 28-37.
B. H. Roberts, ed., History of the Church of Jesus Christ of Latter-day Saints, 7 vols. (Salt Lake City: Deseret Book Company, 1932), V: 391, known commonly as the Documentary History of the Church or DHC.
Apparently referring to the 12th century Italian jurist, Franciscus Gratianus, known as Magister Gratianus, or Gratian, founder of the science of canon law.
Journal of Discourses, III: 23-28.
Journal of Discourses, III: 280-91.
Journal of Discourses, V: 101-11.
Journal of Discourses, V: 359-67.
Journal of Discourses, V: 221-25.
Data collected by the author from the manuscript US Census for 1860; from John Unruh, Jr. The Plains Across: The Overland Emigrants and the Trans-Mississippi West, 1840-1860 (Urbana and Chicago: University of Illinois Press, 1982), pp. 84-85; and from the 1997-98 Church Almanac (Salt Lake City: Deseret News, 1998), pp. 174-76.
The history of Washington County settlement is well covered in Douglas D. Alder and Karl F. Brooks, A History of Washington County (Salt Lake City: Utah State Historical Society and Washington County Commission, 1996. See also Andrew Karl Larson, I Was Called to Dixie: The Virgin River Basin; Unique Experiences in Mormon Pioneering (Salt Lake City: The Deseret News Press, 1961).
Bleak, Book A, pp. 31-44.
Bleak, Book A, p. 52.
Journal of Discourses IX: 200-203.
B. H. Roberts, A Compehensive History of the Church of Jesus Christ of Latter-day Saints, 6 vols. Salt Lake City: Deseret News Press, 1930), V: 123, quoting from the "History of Brigham Young, Ms., entry of 28th Oct., 1861."
I derived the data for town naming from the appropriate entries in Andrew Jensen, Encyclopedic History of the Church of Jesus Christ of Latter-day Saints (Salt Lake City: Deseret News Publishing Company, 1941).
Journal of Discourses XI: 157.
Journal of Discourses XI: 360.
Journal of Discourses XII: 6-10 (mistakenly paginated in printing as pp. 381-85).
Geographer Richard H. Jackson has written persuasively on this theme. See especially his "Myth and Reality, Environmental Perception of the Mormons, 1840-1865, an Historical Geosophy," Ph.D. diss., Clark University, 1970. More accessible is "Mormon Perception and Settlement," Annals of the Association of American Geographers 68, no. 3 (1978): 317-34.
Bleak, Book A, p. 310.
Bleak, Book B, p. 126.
See Leonard J. Arrington, Feramorz Y. Fox, and Dean L. May, Building the City of God: Community and Cooperation Among the Mormons (Salt Lake City: Deseret Book Company, 1976; 2nd ed., Urbana and Chicago: University of Illinois Press, 1992). The quote is from Bleak, Book B, p. 210.
Bleak, Book B, p. 374.
Bleak, Book B, p. 425.
Brigham Young to Alfales Young, September 2, 1875 in Letters of Brigham Young to His Sons, pp. 219-20.